Warwick Thornton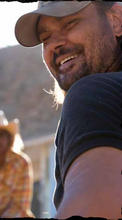 Warwick Thornton is celebrated as one of Australia's finest filmmakers. Warwick is from the Kaytej nation in Central Australia and was born and raised in Alice Springs.
Warwick's career started as a cameraman for CAAMA (Central Australian Aboriginal Media Association) in 1990 and he graduated from the Australian Film, Television and Radio School in 1997 with a degree in cinematography. Later that year he shot his first feature film Radiance. The following year he shot award-winning short films My Bed Your Bed and Promise. Other credits as Director of Photography include the 50-minute film Queen of Hearts, Beck Cole's short films Flat and Plains Empty and the Film Australia documentary Buried Country. He was also Director of Photography on the highly successful musical drama, The Sapphires.
Warwick has written and directed several short dramas, including Nana, which was part of a series of five-minute short films for SBS Television called Bit of Black Business. Nana won the Crystal Bear for Best Short Film at the 2008 Berlin International Film Festival in the Generation section. It also screened on the opening night of the 2007 Sydney Film Festival, won the Inside Film Award for Best Short Film and Best Australian Film at Flickerfest Film Festival in Sydney. Warwick was awarded the Emerging Filmmaker Award for Nana at the Melbourne International Film Festival in 2007.
His previous short drama, half hour Green Bush, won Best Short in the Panorama section at the Berlin International Film Festival 2005. Green Bush also won a Dendy Award and the Rouben Mamoulian Award (best overall) at the Sydney Film Festival, an Inside Film Award and was nominated for Best Short at the Film Critics' Circle Awards. It premiered at Sundance Film Festival.
His debut feature as director was Samson & Delilah, a confronting look at the relationship between two young Aboriginal teenagers in Alice Springs. The film was awarded the prestigious Camera d'Or at the Cannes Film Festival, and collected many other awards including best film at the Asia-Pacific Screen Awards, the AFI awards, and the Film Critics' Circle awards.
Next, Warwick completed his feature The Darkside, a film which presents well known Australian actors re-telling Indigenous ghost stories. Following this he directed the opening segment of Tim Winton's The Turning, and the opening segment of Guillermo Arriaga's Words With Gods, which was invited to premiere at Venice in 2014.
In 2017, his feature Sweet Country, which he directed as well as photographed, was released to national and international acclaim and box-office success.
Warwick was named Northern Territory Australian of the Year in 2010, and was honoured with the Lifetime Achievement Award at Imaginative, Canada in 2015.
Filmography
The stark, barren landscapes around Coober Pedy are stunningly photographed by Warwick Thornton, who also directed this outstanding short film...

Tnorala is the Aboriginal name for Gosse's Bluff, a dramatic meteorite impact crater set in a vast plain 175km west of Alice Springs...

SAMSON & DELILAH

* Camera d'Or (Best First Feature), Cannes Film Festival 2009 * Best Feature Film, Asia Pacific Awards 2009 * Best Film, Director, Script, Cinematography, Sound, Young Actors (jointly awarded Marissa Gibson & Rowan McNamara) and AFI Member's Choice Award, Australian Film Institute Awards 2009 * Best Film, Director, Script, Music, Actor, Actress - IF (Inside Film) Awards 2009 * Best Editor, Feature (Roland Gallois), Australian Screen Editor's Guild Awards 2009 * Best Achievement in Sound Design (Liam Egan and team), Australian Screen Sound Awards 2009 * AWGIE Awards (Australian Writer's Guild Awards), Feature Film Screenplay (Original) Major AWGIE Award (for most outstanding script in any discipline) * Kate Challis RAKA Award for Indigenous script writing ________________________________________________________________ QUOTES Margaret (five stars) ***** David (five stars) ***** "...

NOW DIGITALLY RE-MASTERED FROM ORIGINAL FILM NEGATIVES! Every night, Indigenous radio announcer and DJ, Kenny. hosts the Green Bush show for Aboriginal communities...

Rosalie reflects on her childhood, growing up in the Utopia area in central Australia, and then at school at St Mary's in Alice Springs where she learnt English and went to Church...

WINNER! 2018 ATOM Award, Best Documentary (Social and Political Issues) WINNER! Digital History Prize, NSW Premier's History Awards, 2018...