ROSALIE'S JOURNEY [from the CAAMA Collection]
Year: 2003
Classification: Exempt - Ronin Recommends: G
Runtime: 22 min
Produced In: Australia
Directed By: Warwick Thornton
Produced By: Warwick Thornton
Language: Eastern Arrernte language with English subtitles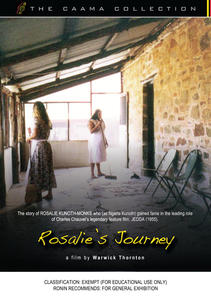 price includes GST and postage

The story of Rosalie Kunoth-Monks who (as Ngarla Kunoth) gained fame in the leading role of Charles Chauvel's legendary feature film, JEDDA (1955).
Rosalie reflects on her childhood, growing up in the Utopia area in central Australia, and then at school at St Mary's in Alice Springs where she learnt English and went to Church. Despite her schooling, Rosalie retained fluency in her own language and maintained close ties to her country.
When Charles and Elsa Chauvel came to Alice Springs looking for someone to play Jedda, they screen-tested many young women before settling on Rosalie. At that time, Rosalie had seen only one film – JOAN OF ARC – and had little awareness of what film-making involved. She talks frankly about her embarrassment in acting in scenes with a male actor, Robert Tudawali, and how her on-screen interaction with him conflicted with her traditional law.
After JEDDA, Rosalie withdrew from the film world and the public gaze, and went to Melbourne for several years, married and had children, before returning to live in Utopia. She passed away on 26 January 2022 in Alice Springs.
Rosalie's story is accompanied by home movie footage of St Mary's School, and with screen tests and extracts from JEDDA.
Rosalie's Journey is directed and photographed by Warwick Thornton who received wide acclaim in 2009 as the director of SAMSON AND DELILAH.
---
Director - Warwick Thornton
Photography - Warwick Thornton
Editor - Dena Curtis
Executive Producer - Priscilla Collins
Production Manager - Sonette Johnson
Sound recordist - David Tranter
Eastern Arrernte language with English subtitles
A CAAMA Production. Produced with financial assistance from Imparja Television.