GREEN BUSH [from the CAAMA Collection]
Year: 2005
Classification: Exempt - Ronin Recommends: G
Runtime: 26 min
Produced In: Australia
Directed By: Warwick Thornton
Produced By: Kath Shelper
Language: English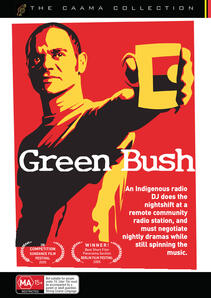 price includes GST and postage

NOW DIGITALLY RE-MASTERED FROM ORIGINAL FILM NEGATIVES! Every night, Indigenous radio announcer and DJ, Kenny. hosts the Green Bush show for Aboriginal communities. Isolated at the station, he takes requests for music, while at the same time coping with the pressure of the community around him.
Based on his own experiences as a radio DJ in Alice Springs in central Australia, Warwick Thornton (later director of award-winning features such as SAMSON AND DELILAH and SWEET COUNTRY) made an international impact with this graceful and powerful short drama.
At one level, the film explores the role of the media in Aboriginal communities – where the radio station serves as both a physical gathering-place as well as providing a musical and verbal bond that connects disparate segments of the community. But through the story of Kenny, played by David Page, the film also comments quietly and effectively on concepts of manhood, leadership and community responsibility.
"A film that crackles with the music of politics, humanity, ideas and humour as it tells the story of a man's daily struggle to sustain his fragmented community and keep the pain at bay". - Berlin International Film Festival notes.
---
WINNER! Best Short Film, Panorama Section, 2005 Berlin Film Festival.
WINNER! Dendy Award & Rouben Mamoulian Award, Sydney Film Festival 2005.
OFFICIAL SELECTION! - 2005 Sundance Film Festival.
---
With David Page as Kenny, and Ted Egan Jangala as the old man.
Writer and director - Warwick Thornton
Producer - Kath Shelper
Photography - Murray Lui
Production designer - Daran Fulham
Editor - Roland Gallois
Sound designer - Liam Egan
Production manager - Michelle Russell
Assistant directors - Richard McGrath and Beck Cole
Sound recordist - David Tranter
Assistant editor - Dena Curtis
---