Kath Shelper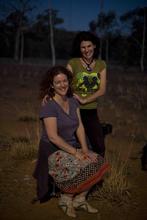 Kath Shelper is the producer of many award-winning films most noticeably, Samson & Delilah, which won the prestigious Camera d'Or at the Cannes Film Festival in 2009. In 2013, she finished another feature film with Warwick Thornton, The Darkside, about Aboriginal ghost stories and was screened at the Berlin International Film Festival.
Kath also produced Beck Cole's debut feature, Here I Am, and her short film, Plains Empty (Sundance 2005), plus many short films including Green Bush (dir: Warwick Thornton, Best Panorama Short Film, Berlin Film Fest), Confessions Of A Headhunter (dir: Sally Riley, Best Short, Australian Film Institute Awards), Above The Dust Level (dir: Carla Drago, Best Comedy, Melbourne Film Festival), and House Taken Over (dir: Liz Hughes, nominated, Australian Film Institute Awards). She also produced the TV series, Bit Of Black Business, which included short films Nana (dir: Warwick Thornton, Crystal Bear, Berlin Film Fest), and Hush (dir: Dena Curtis, Audience Prize, Creteil Women's Film Fest).
Kath also produced two chapters of The Turning feature film project (directors Warwick Thornton and Mia Wasikowska), and well as producing Warwick's contribution to the Guillermo Arriaga omnibus, Words with Gods.
Kath grew up in country Victoria and then did a PR degree at RMIT in Melbourne (even though she wanted to do Media but didn't get in). When she finished she hung out in Melbourne and worked on Emma-Kate Croghan's film school films and did odd jobs for Circus Oz. She scored a producer attachment on Lawrence Johnston's doco Eternity and moved to Sydney "just for six months" but fifteen years later she's still there.
Picture: Kath pictured here with Beck Cole (standing)
Filmography
SAMSON & DELILAH

* Camera d'Or (Best First Feature), Cannes Film Festival 2009 * Best Feature Film, Asia Pacific Awards 2009 * Best Film, Director, Script, Cinematography, Sound, Young Actors (jointly awarded Marissa Gibson & Rowan McNamara) and AFI Member's Choice Award, Australian Film Institute Awards 2009 * Best Film, Director, Script, Music, Actor, Actress - IF (Inside Film) Awards 2009 * Best Editor, Feature (Roland Gallois), Australian Screen Editor's Guild Awards 2009 * Best Achievement in Sound Design (Liam Egan and team), Australian Screen Sound Awards 2009 * AWGIE Awards (Australian Writer's Guild Awards), Feature Film Screenplay (Original) Major AWGIE Award (for most outstanding script in any discipline) * Kate Challis RAKA Award for Indigenous script writing ________________________________________________________________ QUOTES Margaret (five stars) ***** David (five stars) ***** "...

Every night, Indigenous radio announcer and DJ, Kenny. hosts the Green Bush show for Aboriginal communities. Isolated at the station, he takes requests for music, while at the same time coping with the pressure of the community around him...