PUTUPARRI and the Rainmakers
Year: 2015
Classification: M
Runtime: 97 min
Produced In: Australia
Directed By: Nicole Ma
Produced By: Nicole Ma, John Moore
Language: English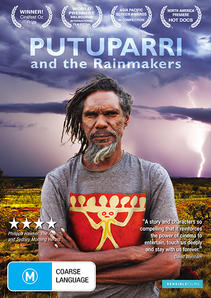 price includes GST and postage

"A stunning story of Aboriginal culture, life and law. ... The complexities of Putuparri's life ... are honestly and poignantly portrayed. " - Sandy Toussaint, The Conversation
---
"PUTUPARRI AND THE RAINMAKERS is an astonishing ten-year labour of love by filmmaker Nicole Ma, documenting the fragile line by which endangered Indigenous cultures are passed from one generation to the next. The fragility of this slender thread has been observed in other films, but rarely with such compassion, honesty and richness of detail. The poignancy of the film is profound as we gradually come to understand the personal burden of responsibility which drives Spider and Dolly, and transforms the lives of the next generation." - Andrew Pike
---
Putuparri and the Rainmakers is a universal story about the sacred relationship between people and place. It takes audiences on a rare and emotional journey to meet the traditional rainmakers of Australia's Great Sandy Desert who have fought a twenty-year battle to win back their traditional homeland.
The film spans ten transformative years in the life of Tom 'Putuparri' Lawford as he navigates the deep chasm between his Western upbringing and his growing determination to fight for his family's homeland. A trip back to his grandparents' country in the desert begins the process of cultural awakening. Putuparri is shocked to learn that the dreamtime myths are not just stories, that there is a country called Kurtal and a snake spirit that is the subject of an elaborate rainmaking ritual.
Putuparri is a man caught between two worlds: the deeply spiritual universe of his people's traditional culture and his life in modern society where he struggles with alcoholism and domestic violence. As he reconnects with his ancestral lands and learns about his traditional culture he begins to accept his future as a leader of his people and shoulders his responsibility to pass this knowledge on to the next generation.
Set against the backdrop of their long fight to reclaim their traditional lands, Putuparri and the Rainmakers is an emotional, visually breathtaking story of love, hope and the survival of Aboriginal law and culture against all odds.
UPDATE: On 12 August 2016, at a ceremony held on the edge of the Great Sandy Desert, Japeth Rangie received the Native Title to Kurtal on behalf of his grandfather Spider Snell. People who have seen Putuparri and the Rainmakers know what a battle it has been for Spider and his family, with many frustrating twists and turns along the way. Japeth presented the title to a grateful and still singing Spider the following day in the old people's home at Fitzroy's Crossing. Director Nicole Ma's film work was cited by the judge as one of the important supporting documents for the land claim.
---
WINNER! FILM PRIZE - Cinéfest Oz, 2015
IN COMPETITION - Asia Pacific Screen Awards, 2015
WORLD PREMIERE - Melbourne International Film Festival
NORTH AMERICA PREMIERE - Hot Docs, Canada, 2016
---
Follow this link to read review by Jeremy Eccles: news.aboriginalartdirectory.com/2015/09/putuparri-and-the-rainmakers.php
Follow this link to view PUTUPARRI trailer: vimeo.com/700742867
---
Related files
Images