AUSTRALIAN FILM 1900-1977: A guide to feature film production (book)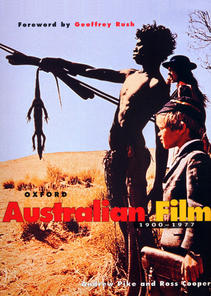 price includes GST and postage
AUSTRALIAN FILM 1900-1977: A guide to feature film production (book)
By Andrew Pike and Ross Cooper
Oxford University Press 1998 (second edition)
Paperback (large) 362 pages
All copies for sale are in mint condition.
Free postage within Australia. Write to for a quote on international postage.
AVAILABLE ONLY AS A PHYSICAL EDITION, not available as an e-book.
Australian Film 1900-1977 is a comprehensive guide to the feature films of the first eight decades of filmmaking in Australia- from some of the earliest films made anywhere in the world to the renascence of Australian cinema in the 1970s.
Ranging from SOLDIERS OF THE CROSS to DON'S PARTY and THE LAST WAVE, the authors detail each production team and cast, provide a synopsis, and describe the production process and marketing. There are 488 films and more than 400 illustrations, many of them published for the first time. The book is fully indexed.
Andrew Pike and Ross Cooper, both of whom have long been involved in the study of Australian films, spent more than 10 years researching and writing Australian Film 1900-1977. They interviewed pioneers of the film industry and studied their voluminous correspondence, read film trade journals and newspapers, searched through state and commonwealth film archives and viewed and reviewed the films themselves.
Australian Film 1900-1977, first published in 1980 and highly regarded by the film industry ever since, is an indispensable reference to all those whose work or pleasure lies in films.
"Pike and Cooper remains the 'bible', the authoritative reference source on feature films...The passage of time has enhanced the value and validity of this now classic book, for its style is timeless, and factual accuracy does not date." - Dr Ray Edmondson, Archive Consultant, formerly Deputy Director of the National Film and Sound Archive of Australia.