FREEDOM STORIES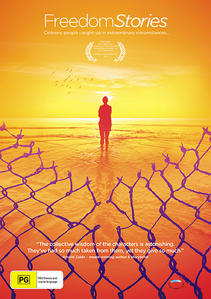 price includes GST and postage

Recommended by the Refugee Council of Australia: "a thoughtful and uplifting film that places humanity back in this often politicised debate. ... Screening 'Freedom Stories' is a great way to raise awareness."
---
DVD INCLUDES SIX MORE STORIES (100 mins)
Freedom Stories is an exploration by filmmaker Steve Thomas of the achievements and struggles of former 'boat people'.
Now Australian citizens, they arrived seeking asylum from the Middle-East around 2001 – a watershed year in Australian politics sparked by the Tampa affair and Prime Minister John Howard's declaration: "We will decide who comes to this country and the circumstances in which they come".
Some were only children when they found themselves in indefinite mandatory detention in remote places such as Woomera or Nauru and then placed on temporary protection visas, which extended their limbo for years. It has taken astonishing resilience and over a decade for them to build secure lives and start contributing to their new country.
These are ordinary people who found themselves caught up in the extraordinary consequences of political brinkmanship but have long since dropped out of the media spotlight. They live among us now and given the Government's boast that it has 'stopped the boats' it is time for their voices to be heard.
Director, Narrator and Co-Producer - STEVE THOMAS
Producer - LISA HORLER
Editor and Screen Designer - URI MIZRAHI
Composer - BRETT APLIN
Cinematography - PHILIP BULL, JENNI MEANEY, ROBIN PLUNKETT, PETER ZAKHAROV
The Freedom Stories Project acknowledges the support of Screen Australia, Film Victoria, Bokhara Foundation, John T. Reid Charitable Trusts, R.E. Ross Trust, Scanlon Foundation, Victorian Multicultural Commission, Amnesty International, Faculty of the VCA & MCM at University of Melbourne, Documentary Australia Foundation and Creative Partnerships Australia.
Freedom Stories is a Flying Carpet Films production (c) 2015.
---
"Not only timely in its depiction of how a previous generation of refugees have productively fitted into Australia society, but also fascinating for how it draws out – or even inspires – undercurrents of unease, this deceptively complex documentary by Steve Thomas deliberately sets out to introduce people previously dehumanized by both rhetoric and forced detention." - Craig Mathieson, Sunday Age
---
"Steve Thomas' thoughtful, quietly involving documentary gives us stories of freedom and tales of the everyday... These stories are not simplistic affirmations of success and determination, however. There is an acknowledgment of difficulty and distress, of continuing problems... And the film isn't neatly resolved; these are stories of lives in progress." - Phillipa Hawker, The Age
---
"Thomas' approach achieves a rare level of intimacy, insight and emotional depth. ... When Thomas picked up his camera to start shooting Freedom Stories, he set out to obliterate misconceptions. He has succeeded. By avoiding didacticism and simply engaging in conversation, he has created an accessible yet deeply affecting film, compelling viewers to see asylum seekers as individuals – with weaknesses and strengths, disappointments and hopes, struggles and successes. To watch Freedom Stories is to see well beyond the stereotyping that too often leads, at best, to callousness and, at worst, to outright cruelty."
- from "Reframing Refugees" by Jasmine Crittenden, Metro Magazine, Issue #187
---
"Screening Freedom Stories allowed our school community to see refugees from a different perspective.They are portrayed as people who have embraced the opportunities given to them with courage and dignity, adding to the rich human story of our nation."
- Leo Twomey, Social Justice Coordinator, St Columba's College, Essendon, Victoria.
---
VIEW TRAILER HERE: vimeo.com/410893417
---
SCREENINGS & HONOURS
World Premiere: Sydney Film Festival 8th June 2015
Finalist Documentary Australia Foundation Award for Australian Documentary
Cinema Nova, Melbourne – 23rd July to 19th August 2015
Harlem International Film Festival, New York – September 2015
Muslim Film Festival, Atlanta – September 2015
Canberra International Film Festival – November 2015
Peace on Earth Film Festival, Chicago – March 2016
Universe Multicultural Film Festival, California – April 2016
---
Related files
Images

FREEDOM STORIES
poster (pdf 3.5MB)
download high-res