SHINE (screenplay/book)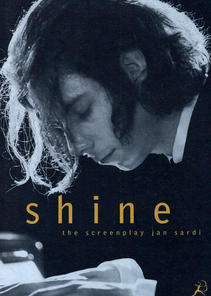 price includes GST and postage
A screenplay by Jan Sardi
Bloomsbury
1997
Paperback
176 pages
The screenplay by Jan Sardi for the feature film, SHINE, directed by Scott Hicks and produced by Jane Scott.
Lost and confused during a rainstorm, an eccentric vagrant stumbles into a restaurant and proceeds to captivate and delight everyone with his amusing, incessant chatter. Thus, David Helfgott rushed in from the emotional storm he weathered for three decades, back into the public spotlight he was always destined to occupy.
A former child prodigy, whose interpretive genius promised a brilliant career as a concert pianist, suffers a devastating breakdown in his early twenties. In the years of obscurity and loneliness which followed, he lived in a twilight world without music.
But then came that fateful night at the restaurant, David sat down at the piano by the bar and showed the world his gift was far from dead.
'Jan Sardi has done a terrific job of transforming Helfgott's life story into a smartly paced, intriguing kaleidoscope.' - Film Journal International.
Winner! Best Original Screenplay – 1996 Australian Writers' Guild Award.
The DVD of the feature film, SHINE, is also available from Ronin Films www.roninfilms.com.au/feature/591.html