John Moore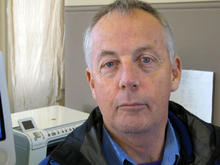 John Moore produced award-winning documentaries for over twenty years. His programs sold to ABC TV, SBS, Channel 4, ARTE, the Canadian History Channel and TV Ontario.
His programs made for the Film Australia History Scheme included Menzies & Churchill at War and Monash the Forgotten Anzac.
His 2005 documentary about Bertram Wainer Abortion, Corruption & Cops was nominated at the 2005 Australian Film Institute (AFI) Awards and the 2006 Sydney Film Festival.
In 2001 John produced and directed Thomson of Arnhem Land for Film Australia and the ABC. Thomson won the $15,000 NSW Premiers History Award, an AFI Award for Editing and was nominated for awards at Banff and Shanghai TV Festivals.
John's awards included a United Nations Peace Award for Barefoot Student Army in 1994, Best Documentary at the Melbourne and Sydney Film Festivals for Black Man's Houses (1993) and an Australian Film Institute Award for Best TV Documentary for Guns & Roses (1991).
John was also a board member of the Australian International Documentary Conference (AIDC).
He passed away on 23 July 2019, sadly missed by the documentary community and leaving behind him a huge legacy of social documentaries which responsibly addressed key issues of the day.
______________________________________
PRODUCER/DIRECTOR/WRITER
2008:
Producer MONASH THE FORGOTTEN ANZAC (Film Australia & ABC TV) Broadcast on ABC1.
John Monash had to overcome his German/Jewish background to become Australia's greatest military leader. Director: Malcolm McDonald
2007/2008:
Producer MENZIES AND CHURCHILL AT WAR (Film Australia & ABC TV) Broadcast on ABC1. Director: Steve Jodrell
The story of Robert Menzies struggle with Winston Churchill over the strategic direction of the second world war.
2005:
Producer/Director ABORTION, CORRUPTION & THE COPS (Film Australia/SBS TV) Producers: John Moore and Sue Seeary
The story of Dr Bertram Wainer's campaign for abortion law reform.
-Nominated Best Director & Best DOP AFI Awards 2005
-Nominated Dendy Awards Sydney Film Festival June 2006
2003:
Producer TRIAL BY FIRE (ABC TV) Director Kevin Anderson
In January 2002 bushfires ravaged South East Australia. The Woodend fire brigade was at the frontline of the battle.
2002:
Producer IN THE REALM OF HACKERS (Film Australia/ABC TV) Director: Kevin Anderson
Takes us headlong into the clandestine, risky but intoxicating world of the computer underground to uncover not only how the hackers did it but why.
-Screened Sydney Film Festival 2002
-Screened Revelations Film Festival. Perth 2003
2001:
Producer CHILDREN OF THE CROCODILE (SBS TV) Directed by Marsha Emerman
A film about the East Timorese struggle for cultural and political survival.
Producers: John Moore & Marsha Emerman
2000:
Producer/Director THOMSON OF ARNHEM LAND (Film Australia/ ABC TV) Produced by John Moore & Michael McMahon
The story of anthropologist Donald Thomson and his lifelong struggle for Aboriginal rights.
-AFI Award Best Editor Andrea Lang 2000
-Winner NSW Premiers History Awards 2001
-Nominated Rocky Awards Banff 2001
-Nominated Magnolia Awards Shanghai 2000
1999:
Producer THE ASTONISHING ASHTONS ( SBS) Directed by Lisa Jane Wallace
Life on the road with Australia's oldest and best loved circus family.
-Nominated for an AFI Award Best Sound 1999
1997:
Producer FINAL INSULT (ABC TV) Directed by Ivan Hexter
What do you do if you discover you are allergic to the 20th century? A film about three people struggling to overcome the devastating impact of Multiple Chemical Sensitivity.
1995:
Producer HAROLD (ABC TV) Directed by Steve Thomas, Produced by John Moore and Marion Crooke
The story of Aboriginal tenor Harold Blair and his emergence from the Queensland Reserve system to become the last great Australian tenor of the concert hall era.
-Bronze Plaque Columbus International Festival 1995
-Nominated for an AFI Award Best Documentary 1995
-Screened Margaret Mead Festival 1995
1993:
Producer BLACK MAN'S HOUSES (ABC TV) Produced by John Moore & Steve Thomas, Directed by Steve Thomas,
A one hour documentary about the struggle for survival of the Tasmanian Aborigines.
-Irwin Rado Award Melbourne Film Festival 1992
-Rouben Mamoulian Award Sydney Film Festival 1993
-Atom Award Social Issues 1993
-Screened Margaret Mead Festival 1993
1992:
Producer BAREFOOT STUDENT ARMY (ABC TV) Directed by Catherine Marciniak
A one hour documentary about the Burmese struggle for democracy.
-Atom Award Best Documentary 1993
-Screened Banff Festival 1993
1991:
Producer THE SEAGRASS STORY (TV Ontario/ORF Austria) Directed by Steve Thomas
A fifty minute documentary about a remarkable community theatre event highlighting environmental problems.
-Geography Teachers Award Best Documentary 1991
1989-90:
Producer WHAT'S LOVE GOT TO DO WITH IT (ABC TV) Produced by John Moore & Helen Bowman
A three part half hour series for the ABC about women, love and the lack of it.
Ep. 1 GUNS AND ROSES Directed by Carole Sklan
Male violence in relationships and how it can lead to domestic murder.
-AFI Award Best TV Documentary 1991
-Atom Award Social Issue Documentary 1991
-Highly Commended Human Rights Awards 1991
Ep. 2 SO YOUNG Directed by Fiona Cochrane
Teenage mothers in the working class suburb of Broadmeadows.
-Highly Commended ATOM Awards 1990
Ep. 3 IT'S A BUSINESS DOING PLEASURE Directed by Sharon Connolly
The working life of a group of Melbourne prostitutes.
EXECUTIVE PRODUCER
1995:
Executive Producer FIRST PERSON (SBS TV) Series Producer Alan Carter
A six by one hour video diary series produced by Open Channel and the Film & Television Institute of Western Australia.
1994:
Executive Producer ANGEL (ABC Arts) Producer Sharyn Prentice, Director Dennis Smith
A half hour program about the construction of Deborah Halpern's monumental ceramic sculpture now on the banks of the Yarra.
1992:
Executive Producer CONVERSATIONS WITH WOMEN WRITERS (ABC ARTS) Producer Sharyn Prentice, Directed by Catherine Marciniak
A two by one hour series about international women writers.
1989:
Executive Producer MOMENTS LIKE THESE (Dept of Education, Employment & Training (DEET) Produced by Tony Wright, Directed by John Hughes
Part of a 3 X half-hour series. Uses Australian cinema classics past and present to investigate how Australia has constructed images of 'the Aborigine'.
Filmography
| | |
| --- | --- |
| | FINAL INSULT is a challenging film about people with Multiple Chemical Sensitivities - a powerful exploration of the human reaction to the accumulated chemical pollutants in our environment... |
| | This documentary tells the story of black survival in Tasmania amidst the continuing suppression of history and culture. In doing so, it challenges skin-deep assumptions about Aboriginality today... |
| | In the late 1940s, Harold Blair emerged as one of the most renowned Australian tenors of the concert hall, at a time when very few Aboriginal people could break through the barriers of the repressive Queensland reserve system... |
| | "A stunning story of Aboriginal culture, life and law. ... The complexities of Putuparri's life ... are honestly and poignantly portrayed... |
| | In February 2008 twelve Muslim men went on trial in Melbourne on terrorism charges. The trial ran for nine months, heard hundreds of hours of secretly taped conversations and presented 66,000 pages of evidence... |
| | WINNER! BEST DOCUMENTARY FEATURE, 22nd Arab Film Festival, San Francisco. WINNER! BEST INTERNATIONAL FEATURE DOCUMENTARY, 2019 Jelly Film Festival, Los Angeles... |