TRIAL, THE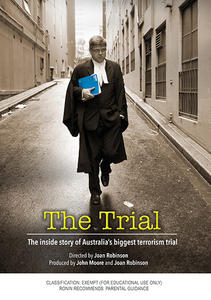 price includes GST and postage

In February 2008 twelve Muslim men went on trial in Melbourne on terrorism charges. The trial ran for nine months, heard hundreds of hours of secretly taped conversations and presented 66,000 pages of evidence. With unique access to Greg Barns, one of the key defence barristers, THE TRIAL takes us inside one of the biggest court cases in Australia's history.
Two of the men, Ezzit Raad and Abdullah Merhi, were charged with being members of a terrorist organisation and with providing it with resources. They faced possible sentences of up to 35 years in jail. Abdullah faced an additional charge: he was also accused of planning to be Australia's first suicide bomber.
The film tells Abdullah's story through the eyes of his lawyers and his brother Omar. Omar believed that his brother was a man of peace who had been influenced by the group's spiritual leader initially, but had rejected any ideas of violence well prior to his arrest.
The prosecution argued that secretly recorded conversations proved that the men were committed to violent jihad and that they had planned to bomb a railway station or the Melbourne Cricket Ground. They played recordings in which some of the accused men discussed terrorist bombings in London and Madrid, retaliation for the war in Iraq, and killing John Howard. They showed the court terrorist handbooks and beheading videos owned by some of the men.
The defence team argued that the men were members of a religious group more concerned with knowledge of the Koran than in mounting terrorist attacks. Greg Barns argued his client only talked about the idea of terrorism. Barns calls it "thought crime" and railed against the new laws that criminalised what individuals "say" rather than what they "do". The defence team argued that the threat of terrorism was being used politically to extend the reach of the law into areas traditionally protected by the principles of freedom of speech and association. They expressed the belief that the ambiguity of the laws could pose a bigger threat to our democratic values than the threat of terrorism.
This is an important film for everyone concerned about human rights and how Australia deals with the threat of terrorism.
---
WATCH THE TRAILER: vimeo.com/206168102
---
Related files