DREAM OF LOVE, THE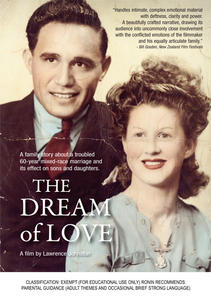 price includes GST and postage

With remarkable frankness and emotional intensity, one of Australia's most distinctive documentary filmmakers, Lawrence Johnston, takes us inside the conflicted mixed-race marriage of his parents and its effect on family members.
THE DREAM OF LOVE tells the story of the mixed-race marriage of Colin and Gloria Johnston who met in the late 1940s and fell in love. Despite Depression era hardship and working class struggle, their love endured for 60 years. Colin was the handsome son of an Indigenous mother and white father who moved to Brisbane in the late 1940s where he met the beautiful Irish-Australian Gloria Vines.
In 2005 filmmaker, Lawrence Johnston, went back home to the suburbs of Brisbane to interview his mother and father, brothers and sisters, in an attempt to uncover the meaning of romantic love for each of them and the effect his parents' relationship had on his siblings and what this meant to them. Throughout the journey we discover the nature of his parents' tempestuous marriage filled with love and commitment, but also fueled by alcohol abuse by his father leading on to domestic violence and unrest which affected everyone.
THE DREAM OF LOVE is a beautiful love poem to notions of family in all their complexity, then and now. It explores the universal expectation of romantic love which is deep in the hearts of us all, no matter what colour, race or background we may come from.
ADDITIONAL RESOURCE: 42 minute interview with Lawrence Johnston about the film, recorded in September 2013.
"Handles intimate, complex emotional material with deftness, clarity and power. A beautifully crafted narrative, drawing its audience into uncommonly close involvement with the conflicted emotions of the filmmaker and his equally articulate family." - Bill Gosden, New Zealand Film Festivals.
Related files