TNORALA - BABY FALLING [from the CAAMA Collection]
Year: 2007
Classification: Exempt - Ronin Recommends: G
Runtime: 22 min
Produced In: Australia
Directed By: Warwick Thornton
Produced By: Liz Warning
Language: Arrernte language, English subtitles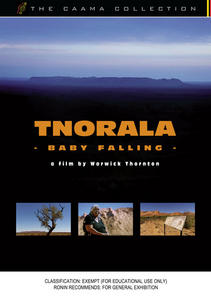 price includes GST and postage

Tnorala, in Central Australia, is a breathtaking land formation that rises above the windswept plains fringing the edge of the Western MacDonnell Ranges. It is a place of unique and sacred importance to the Western Arrente people, who actively protect its beauty and integrity.
Tnorala is the Aboriginal name for Gosse's Bluff, a dramatic meteorite impact crater set in a vast plain 175km west of Alice Springs. This significant dreaming site for Western Arrernte people is steeped in mystery and tragedy. The story of its creation and the events that occurred there are narrated to the camera by Aunty Mavis Malbunka, one of the traditional story-tellers for the place.
Legend says that while stars danced in the Milky Way, a child fell to earth and was lost to its parents, the morning and evening stars, who still search for their baby to this day. Today, ancestors of Tnorala's traditional owners are remembered and honoured by their descendants and visitors that are drawn to this stunning and eerie landscape.
The film is another fine example of the outstanding documentaries that Warwick Thornton made for CAAMA before he went on to win international acclaim for this first feature, SAMSON AND DELILAH in 2009. His haunting cinematography of the awe-inspiring landscapes in and around Tnorala, together with a moody impressionistic music score, make this a remarkable and memorable film.
---
Director - Warwick Thornton
Photography - Warwick Thornton
Editor - Dena Curtis
Producer - Liz Warning
Executive Producer - Rachel Clements
Sound recordist - David Tranter
Music - Max Stuart, David Bridie and Corey Noll
---
Follow this link to view a trailer that includes this title and other CAAMA titles: www.youtube.com/watch?v=lFJiiPPT3bg