STEPPING OUT
Year: 1981
Classification: G
Runtime: 54 min
Produced In: Australia
Directed By: Chris Noonan
Produced By: Jane Hanckel, Richard Mordaunt
Language: English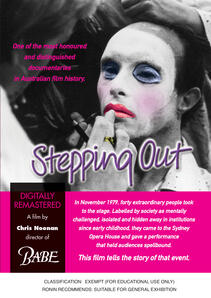 price includes GST and postage

From Chris Noonan, director of BABE, one of the most honoured and distinguished documentaries in Australian film history.
In November 1979, forty extraordinary people took to the stage. Labelled by society as mentally handicapped, isolated and hidden away in institutions since early childhood, they came to the Sydney Opera House and gave a performance that held audiences spellbound. This film tells the joyous story of that event.
"Technically excellent and brilliantly edited down from the 15 hours of film shot ... a mini masterpiece. Some who have watched the triumphant finale several times continue to be shaken each time by the experience." - Variety, New York
"STEPPING OUT is an inspired, uplifting record of the performance, and the people who prepared it and feature in it." - John Lapsley, The Sun Herald.
"It comes as a shock to see a new film that leaves one astonished and changed. A film that opens your mind so vigorously that you feel dazed ... Chris Noonan's STEPPING OUT changed my mind about the human mind. It is destined to be acclaimed around the world." - Phillip Adams, The Bulletin.
---
FESTIVALS AND AWARDS
FESTIVALS:
Tampere Film Festival, Finland 1981.
Melbourne Film Festival, 1981.
Leipzig Film Festival, East Germany 1981.
Commonwealth Film Festival, Brisbane 1982.
Festival International du Nouveau Cinema, Montreal 1982..
23rd Festival dei Popoli, Florence 1982..
Nyon Documentary Festival, Switzerland 1988.
AWARDS:
Grand Prix, MIFED Short Film Competition, Milan 1980.
Bronze Award, New York Film & Television Festival 1980.
Best Documentary, Australian Film Awards 1981.
First Prize, 10th Annual Dance Film Festival of New York 1981.
Jury Prize, Oberhausen Film Festival, West Germany 1981.
First Prize, 5th International Rehabilitation Film Festival, New York 1981.
Best Documentary, 1981 Television Logie Awards, Australia.
Gold Award, British Medical Association Film Competition 1981.
Best Documentary, Festikon, Amsterdam 1981.
Best Cinematography, Documentary, Aust. Cinematographers Society Awards 1981.
Best Foreign Documentary, 4th Annual Media Awards, California Governor's Committee for Employment of the Handicapped, 1982.
Best Television Program, Henry Lawson Festival, Australia 1982.
Best Documentary, International Festival of Childhood, France. 1991.
Chosen by UNESCO for screening at the official closing ceremony for International Year of Disabled Persons, Paris 1981.
Translated into 9 languages for screening on 19 television networks in 15 countries.
---
Follow this link to view a trailer that includes this title as well as other disability titles: www.youtube.com/watch?v=SC2I0-VQcJQ
Permalink: https://www.roninfilms.com.au/feature/615