Chris Noonan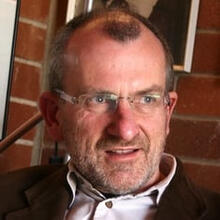 Best known as director and co-writer of the international hit movie Babe, Chris Noonan was born in Sydney on 14 November 1952. His involvement in film began at school where at age 16 he directed Could It Happen Here?, a spoof on high school life, which was a prize-winner at the Sydney Film Festival and which set him on the road to a working life in film & TV.
After high school, he worked for Film Australia as a production assistant, assistant editor, production manager and assistant director, all the while making short films in his spare time. In 1973 he studied at the Australian Film & Television School with fellow students Gillian Armstrong and Phillip Noyce, after which he returned to Film Australia as a director. In 1979, Noonan resigned from Film Australia to produce and direct Stepping Out, his celebrated documentary about a theatre group of mentally disabled people which was sold to television around the world.
He then turned to drama, co-writing and co-directing two major Kennedy Miller mini-series, The Cowra Breakout (1985) and Vietnam (1987). In 1988, he directed the telefeature The Riddle of the Stinson for Kennedy Miller and in 1989, the controversial 100 minute telefeature Police State for the Australian Broadcasting Corporation.
In 1990 he was appointed for a three year term as Chairman of the Australian Film Commission, the Australian government's principal film industry advisory body.
Babe, his first theatrical feature, earned $US280m in its 18-language world theatrical release, a further $US217m in international video sales and was nominated for seven Oscars (including Best Director and Best Adapted Screenplay). It is still the second highest grossing Australian film of all time.
Filmography
| | |
| --- | --- |
| | From Chris Noonan, director of BABE, one of the most honoured and distinguished documentaries in Australian film history... |