PUNISHED NOT PROTECTED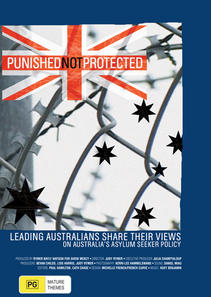 price includes GST and postage

The participants of PUNISHED NOT PROTECTED are open in their criticisms of current government policy and the lack of momentum to move on an alternate, more just and humane policy. These citizens suggest that current policy contravenes human rights conventions and they make clear Australia's responsibilities in relation to international law and asylum seekers.
They challenge all Australians who ignore what is happening and suggest they speak out against those who are denying Australia's protection to people fleeing war zones, torture and persecution. These forceful views are brought into sharp focus by heart rending first hand accounts by several courageous asylum seekers who share their experiences.
Educators and students of legal studies, geography, global politics and society and culture will find factual answers to many of the questions raised by myths put forward by the government and expressed in the media. International human rights are explained in conjunction with international law. Australia's role as a 'good international citizen' is questioned.
The global challenges, the social impact on Australian society and the need for justice and leadership in solving the plight of refugees are all reviewed through the eyes of leading Australians.
Related files
Permalink: https://www.roninfilms.com.au/feature/630