CHIFLEYS OF BUSBY STREET, THE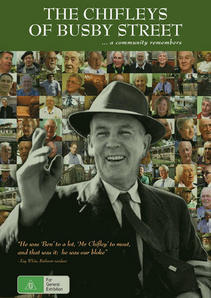 price includes GST and postage

WINNER of Canberra Critics' Circle Award for Film, 2009: "a brilliant cinematic exercise in 'People's History'".
Ben Chifley (1885 – 1951) was a railway engine-driver who became Australia's best-loved Prime Minister in 1945. He was a politician from an Irish-Australian working class background who lived by principles of compassion and concern for his fellow Australians. His philosophy and example have never been more relevant than in the political arena of today. As Prime Minister and Treasurer, he had a profound effect on the path of Australian history following World War Two, and many advantages enjoyed in our society that we take for granted today are the product of his vision.
This film is an exercise in "People's History": an attempt to find and share the communal memory of Ben and his wife, Elizabeth, that lives on in their hometown of Bathurst, New South Wales. Chifley's extraordinary compassion and idealism are still treasured 50 years after his death, and there is much pride in his Irish-Australian family background. In Bathurst, stories about the Chifleys are treasured memories, valued almost as family heirlooms to be passed on from generation to generation. Simple, everyday artefacts - a tea cosy or an old pipe - can carry a special meaning. Similarly, places which seem "ordinary" but are associated with the Chifleys, such as their simple terrace home on Busby Street or the railway community meeting hall where Ben studied and taught, have strong meaning. In this film, the stories and memories of over 50 friends, neighbours and colleagues contribute to an emotional and eloquent portrait of a remarkable community and a national leader.
VIEW TRAILER HERE: vimeo.com/510895989
---
"Unexpectedly, but understandably when you have seen this lovingly made documentary about Australia's most loved Prime Minister, tears rolled down my cheeks when we hear from those who knew him. Tears about a politician who died more than fifty years ago? Hard to believe, I know. But Andrew Pike's film about Ben Chifley is as sincere and as simple as its subject: a humane man who acted on principle rather than to win votes. He was a man from Bathurst whose achievements in politics never outshone his strongly held views to protect the dignity and good of the common man. In these 75 minutes I felt as though I had got to know Ben Chifley: simple man of the land, husband, Bathurst local, community leader and prime minister.
Born in 1885 in Bathurst, Ben Chifley learned about life from working on his grandfather's farm between the age of 5 and 15. Joining the railways at 17, he became an engine driver before his involvement in union politics. The stories are 'like heirlooms' and we hear them from the mouths of interested parties, relations and historians. Chifley was the last PM to live in an era without television and media scrutiny. There is little footage of the man himself, but we do get a great sense of the kind of person he was from the interviews with Bathurst locals. It takes a while to get into the rhythm of the rural no-frills sincerity and we also get a snapshot from scenes of Bob Ellis' play 'A Local Man' in which actor Tony Barry plays Chifley. Chifley was a Catholic man married to Elizabeth, a Protestant woman of delicate health.
Pike's film only touches slightly on Chifley's political achievements during the four years of his tenure as Prime Minister (1945 – 1949), which included the building of the Snowy Mountain Scheme, expanded ABC funding and Australia's own car, the Holden. Instead, it concentrates on the humanity of the man, his sincerity and his simplicity. This is an unpretentious film about a unpretentious man, whose favourite song was 'I'm a Lonely Little Petunia in an Onion Patch' and whose vision was grounded in his community instinct. You do not have to be interested in Australia's history, or in politics. All you need is an interest in humanity to be fascinated by this moving insight into a man who shaped the future – our present Australia."
- Louise Keller, www.urbancinefile.com.au
---
"As a migrant, I knew very little about Ben Chifley until now; Andrew Pike's doco economically and simply reveals many of the reasons why he has been held in such affection by so many for so long. It's a terrific story but it's also an important insight into the Australian psyche of a past generation – the generation that gave way to modern Australia after the war. Chifley's contribution to that is spectacular in many ways, but Pike avoids grandstanding or overstating or triumphing. It's an intimate, human scale doco that is as kind as it is honest and as genuine as it is wide ranging.
The film gathers together recollections of Ben Chifley from the community at large, inside and outside of his home town of Bathurst. Most of the talking heads are ordinary folk, neighbours or Parliamentary secretaries (as in note takers) and clergy. Yet we learn everything that's relevant about the man – if not everything about his political journey from engine driver to Prime Minister. But enough to make sense of it.
It's sad to think that he and his wife Elizabeth are buried in separate cemeteries – he in a Catholic plot, she in the Presbyterian. It's an eternal separation that reflects on the social stigma that was attached to such cross-church marriages. How oddly intolerant that now seems.
Seeing an extract of a play about Ben Chifley with Tony Barry as Chif telling us his life story made me wonder why there isn't a movie of his life. Perhaps that's risking twisting the man's legacy for the dramatic needs of audiences who are believed incapable of mature thought at the cinema."
- Andrew L. Urban, www.urbancinefile.com.au
---
"An enjoyable portrait of post-war Labor Prime Minister Ben Chifley ... a charming documentary, which includes an urban half-myth and a ghost story, and contains something that will appeal to local history lovers as well as political tragics – it's very much a tale from the heartland." - Annette Basile, Filmink.
---
"This excellent documentary should be in every school library proud of its collection." - Dr Michael Kindler, ACT Department of Education.
---
"It's not often a film makes me happy, proud and sad all at once... It's a film for the heart and the head ... charming and challenging at the same time." – Phillip Adams, author and broadcaster.
---
"Andrew Pike's Ben Chifley film The Chifleys of Busby Street is an unexpected small masterpiece, reminiscent of Capra. Crowded with old Bathurst eye-witnesses Ben touched in some way - paying their parents' rent, dropping in for tea - it shows the grammatical speech and sharp provincial intellects of an undereducated generation now passing in an arresting, unsentimental way. Myself, the co-author now of four works about Chifley and his times, applaud this addition to the genre. It is almost never too late, it seems, to remember such secular saints, and reach out and pluck their sleeve as they pass into history." - Bob Ellis, Encore.
---
"Ben Chifley was the much-loved Prime Minister of my childhood. This film depicts the more modest, thrifty and compassionate community of those days and that came from the top. The film is endearing and moving in its authenticity." - Caroline Jones, Australian Story, ABC TV.
---
"Offers recollections from a small-town populace that suddenly found itself with a prime minister in its midst ... Heartwarming anecdotes ... Some interviewees make 'salt of the earth' good company". - Russell Edwards, Variety.
---
"This film is a celebration of the life of perhaps our best-loved prime minister, told through the reflections of his friends and acquaintances (mainly those from his home town, Bathurst, where he lived in modest circumstances even during his leadership), as well as his relatives and staff. They reveal him to be a man of rare humility for one who reached the pinnacle of political power, an especially moving disclosure in this age of media-driven hubris. Director Andrew Pike dedicates his film to his father, 'my Chifley'. He does not attempt an in-depth analysis of Chifley's place in politics or his successes and failures, the complexities of which are best left to political biographies (of which there are now two on Chifley) preferring to provide only a necessary outline of his career. What it does convey is something of the man, and the relationships, behind the public image. That the two merge seamlessly, in what is almost 'another country', is the measure of a very different era. Included are excerpts from A Local Man, the play based on Chifley's life; the film's genesis was in the realisation that only a few minutes exist of Chifley on film, the case with all prime ministers prior to Robert Menzies, whose time in power straddled television's first decade. The Chifleys of Busby Street is a fitting redressing of the balance." - Program notes, 2008 Brisbane International Film Festival.
---
"Congratulations! The Chifleys of Busby Street is a wonderful movie. I hope it is shown in all the schools in Australia so everyone can remember this great man. I think your film is a very important tool for anyone studying our political history because it portrays a very true, down-to-earth, picture of the Chifleys. They were very simple folk. Bathurst residents (those living there at the time) are very possessive of Ben and this is evidenced in the film, where so many are able to comment on their particular connection to him - no matter how trivial. They were proud of him. And the film portrayed this." - Miriam Ledger, Bathurst resident.
---
"Absolutely brilliant. I hung on every word - beautifully put together, totally without pretension but full of substance, just like the subject." – Robert Macklin, author.
---
"FANTASTIC!!! Really touching and inspiring."
- Prof Ann McGrath, Head of the History Program, Australian National University.
---
"'The Chifleys of Busby Street' is made with warmth, care and respect for the persons and characters of Ben & Liz Chifley, and also for the people and communities who knew and loved them and whom they knew and loved. Ben would rejoice more in their place in this story than in all the just praises and fond memories this film finally gives them the chance to share."
- M.C.Martin, great-great-niece of Ben Chifley.
---
OFFICIAL SELECTION! 2009 DUNGOG FILM FESTIVAL
OFFICIAL SELECTION! 2008 Brisbane International Film Festival
OFFICIAL SELECTION! 2008 Hall's Gap Film Festival
Produced with the generous assistance of the National Museum of Australia, the ACT Government (through artsACT), and the Australian Film Commission.
---
Historical information on BEN CHIFLEY: primeministers.moadoph.gov.au/prime-ministers/ben-chifley
---
Related files
Permalink: https://www.roninfilms.com.au/feature/812