ON RICHARD'S SIDE
Year: 2016
Classification: Exempt - Ronin Recommends: PG
Runtime: 90 min
Produced In: Australia
Directed By: Andrew Wiseman
Produced By: Andrew Wiseman
Language: English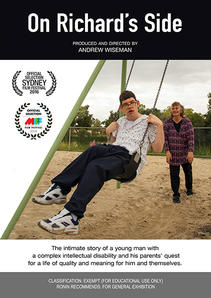 price includes GST and postage

Filmed over three decades, On Richard's Side charts the life-story of Richard, a young man with a complex disability since birth. The film provides intimate and poignant insights into his parents' determined quest to establish a quality life for their son and for themselves.
Richard's mum, Deirdre is now ageing and she is fiercely committed to finding an answer to the questions: who will care for Richard in the next stage of his life and what will happen to her son when she is no longer around?
---
On Richard's Side is the third in a trilogy of documentaries by Melbourne-based filmmaker, Andrew Wiseman, about Richard and his family. The first two films - Driving with Richard (1992) and Wonder Boy (2001) - are also available from Ronin Films:
DRIVING WITH RICHARD - www.roninfilms.com.au/video/10855/0/469.html
WONDER BOY - www.roninfilms.com.au/video/10855/20/673.html
---
This remarkable and emotionally charged story begins thirty-five years ago when Richard was born – revealing through home movies and footage from the previous films how Deirdre coped, caring for Richard as a lovable child who also had highly erratic and often violent impulses. It also reveals the strong bonds that grew between a father and son when Richard's dad, Charlie, became his sole carer for eighteen years.
Deirdre, now in her early sixties, is her son's primary carer and she must plan the remainder of both of their lives. We witness the extraordinary day-to-day effort required to look after Richard, and Deirdre's fierce determination to build a circle of friends and carers for Richard in case anything happens to her.
Deirdre's efforts to find a sustainable, long-term accommodation solution for Richard take her and Richard on a roller-coaster emotional ride as Richard's health fluctuates wildly. Deirdre is resilient but the emotional toll on her becomes apparent as she fights to create and put in place the 'good life' for her son.
The leading voice of this film is the fearless and impassioned voice of Deirdre and that voice, just one of many, tells us that to care for someone means to care for life. Amidst the immense struggle the film reveals moments of humour and great tenderness and how, in many, many ways, Richard gives to others even as he receives their care.
---
DVD includes extras: Time to Care - A short film exploring the key themes of On Richard's Side (22 mins) and Look Me in the Eye - Music clip performed by David and Stella Bridie.
---
VIEW TRAILER HERE: vimeo.com/677943405
---
OFFICIAL SELECTION - 2016 Sydney Film Festival
OFFICIAL SELECTION - 2016 Melbourne International Film Festival
---