Michael Edols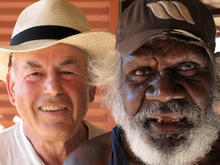 Some people's life experience transforms them, making it almost impossible to define links with the past. Michael Edols' life hasn't been like that. It's been a series of stepping stones, beginning in Northern Borneo at age three. He and his father (who was building an open-air cinema on the banks of the Segama River) lived amongst the Murut longhouses for seven years. Each day of those years, Michael was taught by the Dusan jungle hunters, learning to observe and tell stories as they do.
At the age of ten, he was sent to a Melbourne boarding school, and his stories were not believed. On returning to Borneo for his school holidays, he picked up a box Brownie with serious intentions, and began to record images. By 1962, 20-year-old Edols was working in commercial still photography, and three years later, he was lugging a clock-wound film camera for ABCTV news in Sydney. Edols dropped the news camera and began to make documentaries with the Commonwealth Film Unit. Then a colleague Tom Cowan gave him the opportunity to collaborate, and he gained his first credit as Cinematographer on the 35mm black-and-white feature film, The Office Picnic in 1968. Edols had arrived in his chosen media of fictional storytelling for the cinema.
Edols' next stepping stone would have him refine the art of cinematography and storytelling. His contribution on Tidikawa and Friends brought him international acclaim, with the coveted Kodak Golden Medallion for Best Colour Photography, the Chicago Festival Blue Ribbon Presentation - Best Film and Golden Tripod Award ACS Best Photography, and this would qualify him to become a full member of the Australian Cinematographer Society. He was now Michael Edols ACS; however his next stepping stone, making films with Australian Aboriginals, would be his greatest challenge, and prove to be a continuing life-long work.
Sadly, Michael Edols passed away on 3 July 2018.
Filmography
| | |
| --- | --- |
| | Teachers please note: feedback has indicated that it may be useful to introduce the films to students by viewing the 2011 Director Interview first, as means of providing context for the collection... |
| | Only available in the ASPECTS OF A LIFE collection. _________________________________ Lalai Dreamtime takes the viewer into pre-settled Australia to show a myth from the spiritual tradition of the people... |
| | Only available in the ASPECTS OF A LIFE collection. _________________________________ This passage is taken from the booklet that is included in the ASPECTS OF A LIFE collection: The tribal circles of elders of the Wunan lore and law were specific with their brief and I found myself enlisted as their 'whitefella film man'... |
| | Only available in the ASPECTS OF A LIFE collection _________________________________ A compelling account of the return by a group of dispossessed Aboriginal people to their ancient tribal grounds in the Northern outreaches of this continent... |
| | Only available in the ASPECTS OF A LIFE collection. _________________________________ The 1988 Australian bicentenary prompted many artistic events and contemporary expressions of Australia's living cultures... |
| | The year is 1789. In the central Pacific Ocean the crew of Her Majesty's Ship Bounty mutinied against their captain, William Bligh, and cast him adrift with 18 other men in an open boat, 150 kilometres from Tonga... |
| | A series of ten x 24 minute films (2-DVD set) directed and co-written by Michael Edols ACS, and produced by Mark Falzon. Presented by Dr Sue Hanckel... |