OUR BOTANICAL BIOSPHERE
Year: 1990
Classification: Exempt - Ronin Recommends: G
Runtime: 240 min
Produced In: Australia
Directed By: Michael Edols
Produced By: Mark Falzon
Language: English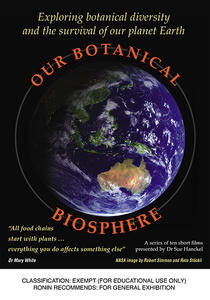 price includes GST and postage

A series of ten x 24 minute films (2-DVD set) directed and co-written by Michael Edols ACS, and produced by Mark Falzon. Presented by Dr Sue Hanckel.
Gaia philosophy views our planet as a living organism, with every component inter-dependent for its health and survival. This pioneering series of short documentaries, first released as UNDER SOUTHERN SKIES in 1990, is even more relevant today: there is now an ever-increasing urgency for us all to be informed about science, to liberate us from a dependence on politicians and corporations.
Dr Sue Hanckel is an expert investigator and science communicator who ushers us through her experiences and encounters with scientists and the impassioned grass roots people who live and work with nature.
Episode 1: LIVING ON A THIN THREAD Our botanical species are the food source for all living creatures including man. Environmental degradation puts man at risk: we are living on a Thin Thread.
Episode 2: DISTINCTIVELY AUSTRALIAN Our botanical adaptation and diversity, from the desert plants of central Australia to alpine snow gums and the treasure house of tropical rainforests.
Episode 3: OUR BOTANICAL HISTORY A self-taught botanical artist inadvertently discovers a living ancient plant in the Daintree rainforest, while selling her work in her tea-house to the tourist trade.
Episode 4: OUR FRAGILE WILDERNESS The Walpole Wilderness in the far south of Western Australia, sustains a biodiversity that is greater per hectare than any other part of Australia, with a wild coastline and ancient trees which occur nowhere else in the world.
Episode 5: ESSENTIAL FIRE Australia's Indigenous peoples have always used fire to manage land and to ensure food supply. These fires changed many ecosystems, and plants gradually adapted, some becoming dependant on bushfires.
Episode 6: FOREST FOR THE TREES The challenge of economics vs sustainability: through a local farmer we explore the "society of trees" in an old growth forest where a diversity of species are inter-dependant.
Episode 7: APPROPRIATE HARVESTING Exploring the concept and practice of sustainable agriculture, especially where there has been significant land degradation. It is man's ingenuity and enterprise which generates hope.
Episode 8: CUSTODIANS OF THE BUSH One of Australia's leading ceramic artists, Gloria Thancoupie (1937 – 2011), uses clay to express her intricate relationship with her land and its creatures, as well as with the elements of earth, fire and water.
Episode 9: HEALING IS BELIEVING Ceramic artist, Gloria Thancoupie, takes us to her home in Weipa in far north Queensland and with other women of her community, introduces us to 'bush medicine' with great humour and wisdom.
Episode 10: FOSSIL FUELS Exploring the imbalance between our needs as a species and the survival of planet Earth, and searching for sustainable energy sources that can release us from dependence on fossil fuels.