E-WASTELAND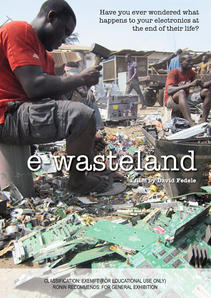 price includes GST and postage
Have you ever wondered what happens to your electronics at the end of their life?
Almost 50 million tonnes of e-waste (electronic waste) are generated worldwide every year. A large volume of second-hand and condemned electronic goods arrive in developing countries from the "developed" world, with a significant quantity arriving as e-waste, exported illegally as "second hand goods".
Without dialogue or narration, this film presents a visual portrait of unregulated e-waste recycling in Ghana, West Africa, where electronics are not seen for what they once were, but rather for what they have become.
---
Follow this link to view the e-wasteland trailer - vimeo.com/39842489
---
AWARDS
WINNER "Best Editing" – Social Impact Media Awards 2013 (U.S.A.)
FINALIST "Best Documentary Short" – Social Impact Media Awards 2013 (U.S.A.)
WINNER "Special Prize of the Jury" – Matsalu Nature Film Festival 2012 (Estonia)
WINNER "Big Impact – Low Budget" – Wildlife Vaasa Film Festival 2012 (Finland)