David Fedele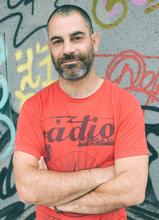 David Fedele is an award-winning documentary filmmaker, musician, part-time philosopher and full-time incessant thinker.


He entered the world of documentary filmmaking through a love of travel and exploring different cultures, having traveled extensively throughout Australasia, Europe, the Middle East, South America and Africa.
Generally working alone, self-producing and self-funding his projects, David is particularly interested in exploring cultural, humanitarian and social justice issues.
David's first film "PNG Style" followed David on a three-month solo journey around Papua New Guinea, and was awarded "Best Documentary" at the Portobello Film Festival 2010 in London, United Kingdom.
David returned to Papua New Guinea again in 2011, to produce "Bikpela Bagarap" (Big Damage), a film that which explores illegal logging in PNG, and the impact this is having on the local Indigenous communities and the environment. This film is currently screening at numerous festivals around the world, and has been broadcast on television in Australia and Papua New Guinea.
David's latest film "E-WASTELAND" was produced in early 2012, and without dialogue or narration, presents a visual portrait of unregulated electronic waste (e-waste) recycling in Ghana, West Africa, where electronics are not seen for what they once were, but rather for what they have become. The film premiered at the Accra Environmental Film Festival in June 2012, in Accra, Ghana, and is now being screened at film festivals around the world.
Filmography
| | |
| --- | --- |
| | Bikpela Bagarap (Big Damage) reveals the human face of logging in Papua New Guinea. It is a tale of exploitation and broken promises, where local people are treated as second-rate citizens in their own country by Malaysian logging companies and corrupt politicians... |
| | Have you ever wondered what happens to your electronics at the end of their life? Almost 50 million tonnes of e-waste (electronic waste) are generated worldwide every year... |
| | "If there's one film you'd want all Australia to see and take on board, it would have to be David Fedele's The Land Between... |