David Fedele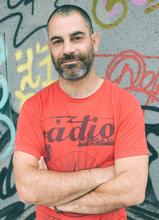 David Fedele is an independent filmmaker, wanderer, dreamer, musician, part-time philosopher and full-time incessant thinker.
Generally working alone, self-producing and self-funding his own projects, David is particularly interested in exploring cultural, humanitarian, environmental and social justice issues.
His films have covered such diverse topics as sub-Saharan African migration in Morocco, electronic waste in Ghana and illegal logging in Papua New Guinea, and have been screened and broadcast widely, winning numerous awards around the world.
David was selected to participate in Berlinale Talents as part of Berlin International Film Festival in February 2014. He was also a jury member at the Cinema Planeta International Environmental Film Festival 2014 in Cuernavaca, Mexico, and President of the jury at the SREM International Environmental Film Festival 2015 in Srem, Serbia.
David's website: www.david-fedele.com
Filmography
| | |
| --- | --- |
| | Bikpela Bagarap (Big Damage) reveals the human face of logging in Papua New Guinea. It is a tale of exploitation and broken promises, where local people are treated as second-rate citizens in their own country by Malaysian logging companies and corrupt politicians... |
| | Have you ever wondered what happens to your electronics at the end of their life? Almost 50 million tonnes of e-waste (electronic waste) are generated worldwide every year... |
| | "If there's one film you'd want all Australia to see and take on board, it would have to be David Fedele's The Land Between... |
| | For years, stories of West African migrants and refugees have been told through the lenses of foreign journalists. Revenir is a story from the inside: a bold new documentary by Australian filmmaker David Fedele in collaboration with Kumut Imesh, a refugee from the Ivory Coast now living in Paris... |