LAND BETWEEN, THE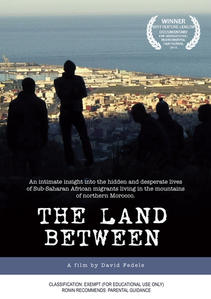 price includes GST and postage

"If there's one film you'd want all Australia to see and take on board, it would have to be David Fedele's The Land Between. ... I'd like to chain our immigration authorities to their seats and make them watch it - twice."
- Sylvia Lawson, Inside Story, 31 October 2014
insidestory.org.au/documentary-just-call-it-cinema
---
THE LAND BETWEEN offers an intimate insight into the hidden and desperate lives of Sub-Saharan African migrants living in the mountains of northern Morocco.
For most, their dream is to enter Europe by jumping a highly-militarised barrier into Melilla, a Spanish enclave on the north coast of the African continent.
With unique and unprecedented access, this film documents the everyday life of these migrants trapped in limbo, as well as the extreme violence and constant mistreatment they face from both the Moroccan and Spanish authorities.
It also explores many universal questions, including how and why people are prepared to risk everything, including their life, to leave their home country, their family and friends, in search of a new and better life.
David Fedele is an independent Australian filmmaker who has previously made films exploring illegal logging in Papua New Guinea (BIKPELA BAGARAP – Big Damage) and electronic waste in Ghana (E-WASTELAND), both available from Ronin.
---
THE LAND BETWEEN screened in June 2015 at the European Parliament in Brussels, to an audience that included people that have the ability and power to influence and make political change.
The film has also been officially selected for numerous international festivals including the FIFE Environmental Film Festival, Paris, where it won the main award for Best Feature-length Documentary; DocWeek in Adelaide; and the Millennium International Documentary Film Festival, Brussels.
In June 2014, the film was ranked "Best Film" at the Festival of Migrant Film in Ljubljana, Slovenia. The Festival jury made the following statement: "THE LAND BETWEEN is not only an excellent film, but also a political catalyst that unsettles the viewer and turns his empathy into anger. The sort of anger that brings the anticipation of change".
The filmmaker, David Fedele, also wrote about another honour the film received in 2014:
"I am very happy to share the news that THE LAND BETWEEN was awarded the PRIZE for the BEST FILM at the "Lampedusa In Festival" held last week in Lampedusa - a small Italian island geographically closer to north Africa (Tunisia) than mainland Italy, and one of the main entry points to Europe for migrants travelling by sea from north Africa.
"This news is bitter-sweet as it was exactly one year ago that over 500 migrants/refugees/asylum seekers lost their lives in the Mediterranean attempting to reach Lampedusa by boat. And more than 2,500 people have drowned or gone missing in the Mediterranean on their way from north Africa since the start of 2014".
The film has also won the following awards:
- WINNER "Best Film" – Naples Human Rights Film Festival 2014 – Naples, Italy
- WINNER "Crossroads Award" – Festival delle Terre 2014 – Rome, Italy
---
Follow this link to view THE LAND BETWEEN trailer: www.youtube.com/watch?v=2jGcRPJZe5o