FORGOTTEN DISTRICT, THE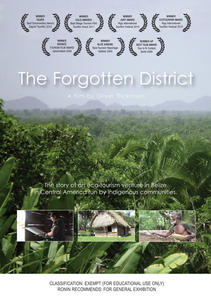 price includes GST and postage
Belize, Central America: between the Caribbean sea and the Maya Mountains lies Toledo, known as "the Forgotten District" of Belize - an area of dense rainforest and minimal economic development.
For the last 20 years, the Maya people have been promoting their own eco-tourism programme in order to protect their natural resources and traditions. Despite constant opposition from the government and the mainstream tourist industry, Margarita (a shopkeeper), Vicente (a farmer), Desmond (a tour guide), Reyes (a farmer), Chet (a hostel owner) and their friends remain strong and optimistic. This film is a tribute to the tireless efforts of the ten villages which have joined the Toldeo Ecotourism Association (TEA) - website: www.southernbelize.com/tea.html
Their work to empower the Indigenous people of Toldeo to unite and manage their own resources, and to promote self-sufficiency, is an inspiration for eco-tourism developments everywhere.
This colourful and lively observational documentary was selected for many international festivals and won many awards, including a Special Award for promoting eco-tourism at the Riga International Tourfilm Festival.
"I feel this documentary provides an excellent boost to the concept of eco-tourism both locally and internationally. We have a signed agreement with the Toledo authorities that if the film is profitable, I will set up a video centre for young people in southern Belize." - Oliver Dickinson