VOYAGE OF BOUNTY'S CHILD, THE
Year: 1983
Classification: Exempt - Ronin Recommends: G
Runtime: 90 min
Produced In: Australia
Directed By: Michael Edols
Produced By: Will Davies
Language: English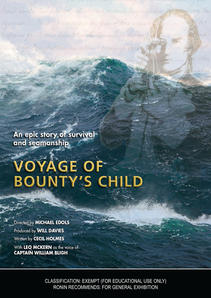 price includes GST and postage

The year is 1789. In the central Pacific Ocean the crew of Her Majesty's Ship Bounty mutinied against their captain, William Bligh, and cast him adrift with 18 other men in an open boat, 150 kilometres from Tonga.
In an extraordinary feat of seamanship and navigational skill, Bligh proceeded to pilot the packed longboat through the cannibal-infested Fiji islands and across to the Australian mainland, landing on Cape York after a dangerous entry through what is now Bligh Passage. After a brief stay, and fearful of the local Aboriginal people, he set sail again, arriving in Dutch Timor from where he and his men took a ship back to England.
This epic voyage is re-created in this remarkable documentary classic from 1983 (the year of the production of Mel Gibson's feature film on the Bounty saga). For this documentary, Captain Ron Bligh-Ware, several generations removed from his famous ancestor, put together a crew of eight and sailed in a replica of the open boat, named Child of Bounty, 6,500 kilometres from Tonga to Timor, following Bligh's route across dangerous seas, and through one severe storm, dramatically captured on film. Like Bligh, Captain Ware had a mutinous crew, and the epic journey strained relationships to breaking point – all frankly documented in this surprisingly honest film.
Authored by one of the great figures of Australian cinema in the post-war decades, Cecil Holmes, the film is a superb example of Holmes' literate, witty and inventive writing. The film is equally superbly shot by one of Australian cinema's leading cinematographers, Michael Edols and his team. The film was broadcast in a shortened version by the ABC in Australia, the BBC in the UK, and the PBS network in the USA, but has had no exposure or distribution since the mid-1980s. This 90-minute film is the Director's cut version.
---
Follow this link to view VOYAGE OF BOUNTY'S CHILD trailer: www.youtube.com/watch?v=kBVbu_Rhvow&list=UUSqan_EgPVcRlIbhv3v45UQ&index=2&feature=plcp
Images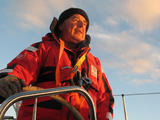 Michael Edols at the helm 1
download high-res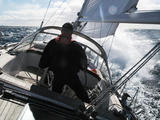 Michael Edols at the helm 2
download high-res