MIRACLE OF THE LITTLE PRINCE, THE
Year: 2018
Classification: Exempt - Ronin Recommends: G
Runtime: 90 min
Produced In: Netherlands
Directed By: Marjoleine Boonstra
Produced By: Pieter van Huijstee
Language: French, Tamazight, Sami, Tibetan and Nawat (with English subtitles)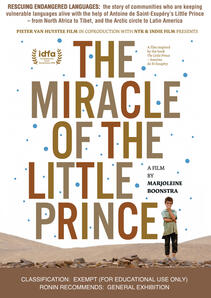 price includes GST and postage

The story of how communities are keeping endangered languages alive
with the help of Antoine de Saint-Exupéry's Little Prince – from North Africa to Tibet, and the Arctic circle to Latin America.
Featuring the TAMAZIGHT, SÁMI, NAHUATL and TIBETAN languages.
Next to the Bible, The Little Prince is the most translated book in the world, in more than 375 languages. The film explores why people from very diverse cultures choose precisely this book to keep their threatened languages and cultures alive - from Sami in the highlands of Samiland to Tamazight spoken on the desert plains of the Sahara, and from Tibetan taught in exile in Paris to Nahuatl still spoken by a last generation in El Salvador.
In the desert, among the sand and stars, live writer Lahbib Fouad and his friend, the poet Omar Taous. For over 30 years they've been fighting for Tamazight, the Berber language that's officially the second language of Morocco, but that's barely written or read. The fact that the little prince talks with animals is commonplace in their culture.
In the land of the Sami, at the border of Norway and Finland, we meet Kerttu Vuolab. When she was young, she was bullied at boarding school because of her language and culture. After the tragic death of her younger sister, who drowned in the river near her home, she was even lonelier than before and she found comfort in The Little Prince. While attending university, she decided to translate the book into Sami.
The Tibetan translation is by Tashi Kyi and Noyontsang Lamokyab. Both of them live as exiles in Paris, cut off from their family, their landscape, culture and language. That language is menaced and purged by the Chinese.
In El Salvador Jorge Lemus is venturing on a translation next year into Nahuatl, also called Pipil, an indigenous Aztec language. Today, it's spoken by only about 300 people after the Pipil people were massacred on a large scale in 1932.
Every translator has a dramatic story to tell about their motivation to translate Saint-Exupéry's book. It's an inspiring film about the rescue and rediscovery of language, inspired in turn by the wisdom of the Little Prince.
View Trailer here: vimeo.com/361580386
Directed and photographed by Marjoleine Boonstra
Produced by Pieter van Huijstee
Written by Marjoleine Boonstra, Lies Janssen, Pieter van Huijstee
Edited by Menno Boerema NCE
Music composed by Harry de Wit, Mari Boine, Svein Schultz
The film is supported by: NL Filmfonds en the Netherlands Film Production Incentive, Mediafonds, CoBO, Norsk Filminstitutt, PvH-film, Indie film AS, NTR
Related files