David Tranter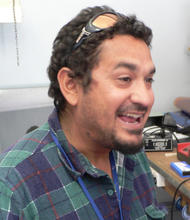 David Tranter is an Alyawarra man from the central desert region of Australia. He first began working with CAAMA Television as a trainee sound recordist in 1989. Since then David has worked on hundreds of CAAMA film and video productions including award-winning documentaries, dramas, television series, video clips and feature films. David is also active in training the next generation of Aboriginal sound recordists.
In 2009 he won the Australian Screen Sound Guild award for Best Sound on a feature film for SAMSON & DELILAH and in 2010 he was a recipient of an AFI Award for his work as a Sound Recordist for the same film.
David's directing career began in 2004 with the making of documentaries about the history and Dreaming stories from his own country. KARLI JALANGU" (Boomerang Today) was quickly followed by LIVING COUNTRY, CROOKHAT AND CAMPHOO (2005), WILLABERTA JACK (2007), "KARLU KARLU (Devil's Marbles) 2008 and "CROOKHAT AND THE KULANADA in 2010.
In 2017, he co-wrote the screenplay for the award-winning feature, SWEET COUNTRY, based on his documentary WILLABERTA JACK.
Filmography
| | |
| --- | --- |
| | A delightful observational documentary about the making of a number seven boomerang by four senior traditional men from Yuelamu, west of Alice Springs in central Australia... |
| | Crook Hat and Camphoo are Alyawarr elders, from central Australia, who are concerned about the survival of traditional skills and culture... |
| | "Frankly nobody should review or write about SWEET COUNTRY until they have seen this remarkable film". - Geoff Gardner, Film Alert (March 2018) WILLABERTA JACK is the outstanding short film that inspired filmmaker David Tranter to expand the story into a screenplay for the award-winning feature film SWEET COUNTRY (2017)... |
| | Traditional owners of proposed nuclear waste dump sites in central Australia show us what's at stake if the unthinkable happens... |
| | David Tranter continues his series of outstanding films which document the Dreaming stories and history of his Alyawarr heritage... |
| | KARLU KARLU is a quiet, reflective film by an outstanding CAAMA team: David Tranter as director, and Warwick Thornton (director of the award-winning feature, SAMSON AND DELILAH) as cinematographer... |