LIVING COUNTRY [from the CAAMA Collection]
Year: 2005
Classification: Exempt - Ronin Recommends: G
Runtime: 22 min
Directed By: David Tranter
Produced By: Jacqui North
Language: Arrente language [English subtitles]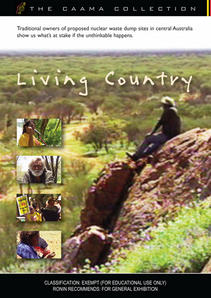 price includes GST and postage

Traditional owners of proposed nuclear waste dump sites in central Australia show us what's at stake if the unthinkable happens.
LIVING COUNTRY observes the campaign by Aboriginal people of central Australia to protect their land and lives from two proposed sites for uranium dump sites.
For these people, their land sustains life: the land feeds and heals. Traditional bush tucker has fed generations, the bush supplies medicines, and these traditional homelands hold sacred sites and are the focus of ceremonial rites and dreaming stories.
Steve McCormack and his family live 4km from one of the proposed sites on the Tanami Highway, 25km north-west of Alice Springs. They worry about the effect of the toxic waste on their water supply and bush tucker, as well as their own health.
At Engawala homestead, 125km north-east of Alice Springs, and 12km from another proposed site, traditional owners Herbie Bloom and Kenny Tilmouth talk about their reliance on bush food. They stress the urgency for everyone to speak up and protest.
---
Writer / director - DAVID TRANTER
Producer - JACQUI NORTH
Editor - DENA CURTIS
Photography - ALLAN COLLINS (ACS)
Sound recording - DAVID TRANTER
Music - WARREN H. WILLIAMS
Narrator - ROSALIE RILEY