BY COMPASS AND QURAN
Year: 2015
Classification: Exempt - Ronin Recommends: G
Runtime: 26 min
Produced In: Australia
Directed By: Kuranda Seyit
Produced By: Fadle El Harris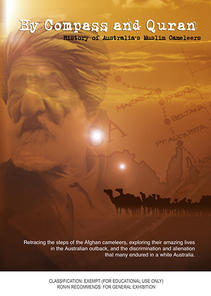 price includes GST and postage

This documentary film explores life as an Afghan cameleer in a camel carrying industry that flourished in the Australian outback from the 1840s onwards, finally declining into insignificance as late as the 1930s.
By Compass and Quran is the tragic story of men who lost their tribal warrior-like identities and became impotent fringe-dwellers, who lived below the poverty line, constantly struggling to preserve their religion, to find marriage partners, to continue the work that they loved, and to find acceptance in a society which had
little sympathy for them.
In this journey we rediscover a significant and fascinating part of our nation's history, one that has rarely been told. This film is a tribute and a testimony to the great contribution and sacrifice that Muslim cameleers gave to this country.
Featuring archival footage from the 1954 film The Back of Beyond, courtesy of the John Heyer Estate.
Related files