KARLU KARLU: Devil's Marbles [from the CAAMA Collection]
Year: 2009
Classification: Exempt - Ronin Recommends: G
Runtime: 21 min
Produced In: Australia
Directed By: David Tranter
Language: Warumungu language [English subtitles]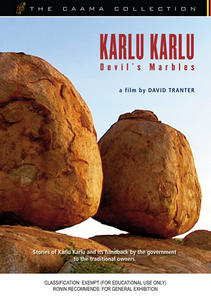 price includes GST and postage

KARLU KARLU is a quiet, reflective film by an outstanding CAAMA team: David Tranter as director, and Warwick Thornton (director of the award-winning feature, SAMSON AND DELILAH) as cinematographer.
On 28 October 2008, the government handed back ownership of Karlu Karlu to its traditional owners, after a 28-year campaign by Lesley Blackhat Foster and others. Karlu Karlu, otherwise known as the Devils Marbles, is an area of huge boulders with great spiritual and historical significance, 114km south of Tennant Creek in the Northern Territory.
As an Elder with responsibility for the land, Lesley Foster tells Dreamtime stories of Karlu Karlu, and recalls how the area used to be a meeting place for many tribes, with many languages, all of whom shared responsibility for the place.
He also reflects on the long campaign
to win back ownership of the area from the government, as well as the return of one
significant boulder which had been removed to mark the grave of Dr John Flynn, the founder of the Flying Doctor Service. Archival photographs and beautifully filmed landscapes enrich the stories.
His story-telling ends with his thoughts about the importance of teaching the younger generation about their responsibilities as eventual owners of the land.
---
Director / sound recordist - DAVID TRANTER
Photography - WARWICK THORNTON
Editor - DENA CURTIS
Composer / musician - TIM TRINDLE-THOMAS
Post-production supervistor - RISHI SHUKLA
Production Manager - MELANIE GUINEY
Executive producers - ROBYN NARDOO and RAY LILLIS
A CAAMA Production for Imparja TV, in the Nganampa Anwernekenhe series.