NORTHERN LIGHTS
Year: 2013
Classification: Exempt - Ronin Recommends: PG
Runtime: 52 min
Produced In: Australia
Directed By: Alastair McGibbon
Produced By: Alastair McGibbon
Language: English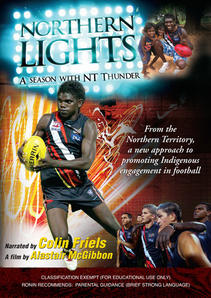 price includes GST and postage

Indigenous football legends, Andrew McLeod and Michael Long, are at the centre of this lively and engaging portrait of NT Thunder, a new AFL team with 60% Indigenous players, and a bold new strategy for community engagement.
Narrated by Colin Friels, and with an original music score by award-winning composers Antony Partos and David McCormack, the film gives us remarkable "behind the scenes" access to the rapid emergence of NT Thunder since its creation in 2009 as a senior AFL team based in Darwin and representing the Northern Territory. Many of its team members travel thousands of kilometres every week from areas as distant as Bathurst Island, Alice Springs, Nhulunbuy, Jabiru and Katherine.
The brainchild of footballer Michael Long who used his high profile and influence to attract funding for the concept of a new pathway for talented Indigenous players to reach their potential in the national AFL, whilst simultaneously promoting education, health and general well-being. The strict rule applying to all team members is that they must be either working or studying. There are no exceptions. Even a player who is vital to the team's finals' success, who leaves his job will be promptly dropped from the team.
In the course of the NT Thunder's emergence, we gain insights into many team members, especially Carlos Burarrawanga from the community of Galiwin'ku on Elcho Island. The son of the late George Burarrawanga, the enigmatic lead singer of the Warumpi Band, Carlos sees his entry into the Thunder as a responsibility to serve as a role model for young men in his community.
This is a "warts and all" story of positive outcomes, about a brotherhood that refuses to be stopped, despite difficulties and challenges along the way: a brotherhood where black and white Australia are one.
---
Director's Statement:
I first came across NT Thunder in an article in The Australian in 2009 which described the concept as a pathway for talented Indigenous footballers to assist in making the transition if drafted by a national AFL team. There had been a lot of publicity surrounding a number of highly talented remote Aboriginal footballers who struggled to make the adjustment from their communities to big cities. The difficulties included the isolation of being away from family and country, poor communication and literacy skills, diet and temperature changes and the highly intense training and preparation.
The aspect that really grabbed me was the strict edict that, to be selected, every NT Thunder player had to either be in employment away from the team or undertaking some form of study or training. It didn't seem to be all about the on-field performance. I was keen to see how this would work in practice and, as we see in the film, the team has to make a tough decision on a star player at a critical time of the season.
I had been looking for the right team on which to make a documentary. I enjoy observing groups working together for a common goal and am unashamedly a fan of sports stories. NT Thunder appeared to have all the elements of highly talented players, the majority being Indigenous. The challenge of bringing in remote players from right across the NT and every second week making the 8,000 kilometres trip interstate to play, something was definitely going to happen. Living in Sydney being constantly confronted with negative stories about Indigenous Australians grates with me. Whilst Indigenous communities endure many problems, I was keen to present some form of positive approach.
I wanted to make a film that Indigenous children might relate to and perhaps be some form of inspiration. Subsequently I purposely steered clear of focussing on the problems in remote communities. I witnessed the energy and spirit in many of the communities. Carlos Burarrawanga who features in the film is someone who left an indelible mark on me. His positive spirit and courage is a big part of the film.
The involvement of Michael Long was also a bonus. His work promoting Indigenous issues particularly through his commitment to The Long Walk for Indigenous recognition and stand against racism gives this team, a large amount of credibility. What stood out for me very clearly is that the NT Thunder concept attracts the sort of people that want to be part of something bigger: a future that is positive.
I hope viewers who see this documentary will find it as entertaining as I did filming the group over six months and appreciate that despite the current disparity in communities, there are good people trying to effect change.
- Alastair McGibbon, 2013