Mitzi Goldman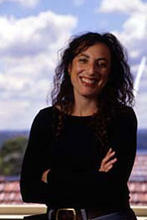 Mitzi Goldman has been working in the film industry for 20 years. Mitzi produced and directed the documentary film Hatred (1996) that was nominated for two AFI's and won the ATOM award for Best Social Issues Documentary in 1997. Her documentaries have all dealt with issues of personal history and cultural heritage.
In adapting the stage play Chinese Take Away, Mitzi has explored cinematic language in a more dramatic way than in previous work, without sacrificing either its documentary or theatrical roots.
Mitzi holds a BA, Majoring in Fine Arts/Philosophy from the University of Sydney and a PhD in Cultural studies from the University of Western Sydney.
DIRECTOR CREDITS:
Chinese Take Away
Hatred
Parra
Ports of Destiny
Things I Call Mine
PRODUCER CREDITS:
Bloodlines
Chinese Take Away
End of the Rainbow
Hatred
Parra
Ports of Destiny
Snakes And Ladders
Things I Call Mine
WRITER CREDITS:
Chinese Take Away
Hatred
Parra
Ports of Destiny
Filmography
| | |
| --- | --- |
| | PORTS OF DESTINY is a film about aging and destiny. The film follows Bernard Goldman, the filmmaker's father, who at the age of 76, travels from Sydney to Buenos Aires to visit his 96 year old aunt and cousin... |
| | What makes us who we are and how do we learn to hate? This is an important question for Australians at this time, as the line is tested between the right to free speech and the incitement to hate on the basis of skin colour or ethnicity... |
| | A FILM ABOUT WOMEN, HISTORY AND EDUCATION. Sophia Whist is a character on a journey of enquiry. She discovers a magic book in the Public Library - an old leather bound volume called SNAKES AND LADDERS... |
| | Performer/writer, Anna Yen, in seeking to understand a family tragedy, unravels stories about her grandmother, her mother and herself... |
| | "You've got to be kidding. You can't have 25 people convicted of killing one man. Even in South Africa, that's ludicrous... |
| | In a remote region of Guinea, West Africa, a desperately poor place with a long connection to gold, a large industrial gold mine has arrived... |
| | An ode to a bird lost in the darkness: an exploration by filmmaker Rob Nugent of the science, mythology and rumours surrounding the elusive nocturnal bird, the Night Parrot, that supposedly disappeared In Australia at the end of the 19th Century... |
| | The war against locusts is as old as human civilisation. It is one of the universal stories we tell of our creation, lying deep within us... |