Kathryn Millard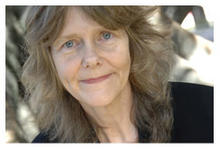 Kathryn Millard started researching Charlie Chaplin several years ago with a view to making a feature film about the cross-cultural and timeless appeal of the comic genius. Along the way she was sidetracked by the beguiling Charlie Circle of Adipur. The result, The Boot Cake, joins a body of work that is highly awarded and internationally recognised. Her 2003 feature film Travelling Light was nominated for four Australian Film Institute awards including Best Original Screenplay (feature) and winner of Best Supporting Actress for Sacha Horler, as well as being nominated for Best Original Screenplay (feature) at the AWGIES.
In 1996 she gave Cate Blanchett her first film role in the short feature Parklands which was also nominated for a Best Original Screenplay award by the AFI. Her 1991 documentary Light Years, about renowned Australian photographer Olive Cotton was nominated by ATOM as Best Documentary. She has also written extensively for print and radio and acted as a dramaturg and script editor on projects including Noelle Janaczewska's award-winning theatre productions, including Mrs. Petrov's Shoe (winner of a 2006 Queensland Premier's Literary Award) and Songket (winner of 2002 Griffin Playwriting Award and 2001 Playbox Asialink Playwriting Competition).
Kathryn is an Associate Professor in the Department of Media at Macquarie University.
Filmography
| | |
| --- | --- |
| | In the 1930s and 1940s, Olive Cotton successfully ran a studio in Sydney with renowned Australian photographer Max Dupain... |
| | Award-winning Australian film-maker Kathryn Millard stumbled across the beguiling Charlie Circle during research for another film project... |
| | A blend of fiction and historical evidence, RANDOM 8 explores issues raised by several famous psychological experiments, including the work of Stanley Milgram at Yale University in the 1960s who studied human obedience to orders, even when the orders were "immoral" or caused pain to others... |
| | Shock Room breaks open Stanley Milgram's dramatic 'Obedience to Authority' experiment in the early 1960s, and forces us to re-evaluate its conclusions... |