Kathryn Millard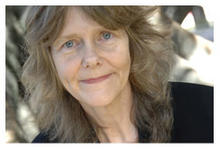 Kathryn Millard is a writer and filmmaker with a passion for big ideas. Her films are internationally recognised and much awarded. Psychology, mental health, popular fallacies and the afterlife of images are recurring themes in her body of work which spans award-winning feature dramas, documentaries and hybrids.
Kathryn's films have been selected for dozens of major festivals including Chicago, Sao Paulo, Mill Valley, Philadelphia, Pordenone, Kolkata, Sydney, Melbourne and Brisbane, screened at Brooklyn Art Museum and on the Sundance Channel.
With a wealth of experience collaborating with actors, Kathryn's work is acclaimed not only for its striking cinematic style, but also for its insight into the understories of human behaviour.
Her feature Travelling Light (2003) received four Australian Film Institute nominations and won 'Best Supporting Actress,' Sacha Horler. Parklands (1996) which featured Cate Blanchett in her first film, won an Australian Film Institute award for Best Cinematography and a San Francisco 'Golden Gate' award for Drama.
In recent films (The Bystander Story, Experiment 20, Shock Room, The Boot Cake) Kathryn has carried her distinctive approach to performance into non-fiction and encounters with the real.
Kathryn is Emeritus Professor of Screen at Sydney's Macquarie University. Her book Double Exposure: How Social Psychology Fell in Love with the Movies was published by Rutgers University Press in early 2022.
Filmography
| | |
| --- | --- |
| | NOW SUPERBLY RE-MASTERED FROM ORIGINAL FILM MATERIALS! A unique record of the life and work of eminent Australian photographer, Olive Cotton... |
| | A small desert town on the edge of western India's famous salt plains is the unlikely home of the world's largest population of Charlie Chaplin impersonators... |
| | A blend of fiction and historical evidence, RANDOM 8 explores issues raised by several famous psychological experiments, including the work of Stanley Milgram at Yale University in the 1960s who studied human obedience to orders, even when the orders were "immoral" or caused pain to others... |
| | Shock Room breaks open Stanley Milgram's dramatic 'Obedience to Authority' experiment in the early 1960s, and forces us to re-evaluate its conclusions... |
| | The Bystander Story fuses studio re-enactments, interviews, archival, bodycam and CCTV footage to tell a radically new story about psychology's bystander experiments... |