LIGHT YEARS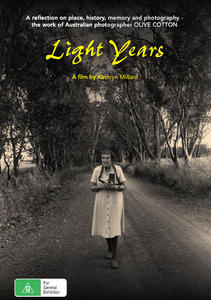 price includes GST and postage

In the 1930s and 1940s, Olive Cotton successfully ran a studio in Sydney with renowned Australian photographer Max Dupain. Her work was exhibited both in Australia and overseas. At the end of the war she married and moved to Koorawatha in central New South Wales. As they struggled to gain a living from the land and raise a family, it seemed that Cotton had left her career as a photographer behind. Living for many years without running water or electricity, she continued to take photographs although she was unable to print them. The negatives were carefully stored in an old sea trunk until the 1960s. It was at this time that her friends and family built a darkroom in Cowra.
In the early 1980s she resumed exhibiting to critical and public acclaim, with the Australian National Gallery purchasing some 40 of the prints. She is now able to devote much of her time to printing from her vast personal archive of negatives.
LIGHT YEARS layers photographs, landscapes and stories to construct a sharply focused portrait of Cotton and the images and philosophies that have shaped her life and work. As one of Australia's most accomplished photographers with a portfolio spanning sixty years, Olive Cotton and her story offer a rich insight into Australian life.