Gillian Leahy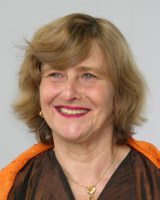 Gillian Leahy is a film director and writer and a film teacher.
She worked in the camera department on feature films after her graduation from AFTRS with a Major in Directing and a Minor in Cinematography.
Gillian is best known for her essay film, My Life Without Steve (1986), which won Awards for Best Experimental Film (AFI), the Grand Prix and Best Australian Film awards at the Melbourne International Film Festival, and the Best Film, General Category, in the Dendy Awards at the Sydney Film Festival. It screened nationally and was invited to the Edinburgh Film Festival amongst others. It was the opening night film at the 1991 Insight Women's Film Festival in Canada.
She produced and directed Our Park (1998), for SBS TV as part of the National Interest Program. It screened at the Valhalla Cinema for an 8-week season and was voted in the top ten documentaries at the Sydney Film Festival.
Gillian taught Media Production at UTS for over 30 years, has directed over 16 films and is now an Adjunct Associate Professor in the School of Humanities.
Her latest film, Baxter and Me (80 mins), screened in the Documentary Competition at the Sydney Film Festival 2016, and won an AWGIE award for best documentary script.
Filmography
| | |
| --- | --- |
| | A FILM BY GILLIAN LEAHY. Through the story of one woman's year in a room with a view, the film catches its audience up in the collective memories of all those who have loved and lost... |
| | OUR PARK was meant to be a nice quiet film about the filmmaker's local park, an essay on the notion of the wild and the tame in the inner city suburb of Leichhardt - a portrait of her neighbours, the dog club, Tiny the horse, the teenagers who created the labyrinth in the overgrown weedy patch... |
| | One woman's life, with and without men, but always with dogs. Acclaimed and award-winning filmmaker Gillian Leahy turns her mind to the relationship between herself and her dog in this searching, funny, touching and thought-provoking documentary... |