Gillian Leahy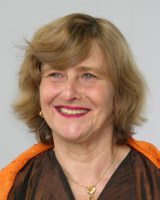 Having completed an honours Anthropology Degree at Sydney University in 1973, Gillian Leahy studied at the Australian Film, Television and Radio School. She worked as a clapper loader on four feature films and worked as an independent director and camera operator on a number of films. She was also a member of the editorial board of Filmnews.
Gillian began teaching at UTS in 1983 and has directed over 16 films ranging in length from 10 to 55 minutes. She has written three as yet un-produced feature scripts with funding from the Australian Film Commission.
Her experimental essay film, MY LIFE WITHOUT STEVE, won an AFI Award for Best Experimental Film and Best Film at the Melbourne Film Festival, amongst other awards. She wrote, produced and directed OUR PARK, a documentary made for SBS TV.
Gillian also produced and directed THE CHIKUKWA PROJECT about a permaculture project in Zimbabwe where 7,000 Shona Africans have pulled themselves out of malnutrition and poverty using permaculture farming methods.
She is Associate Professor and Deputy Head of School (Communication) at the University of Technology Sydney (UTS), and has taught Media Production at UTS for over twenty years.
Filmography
| | |
| --- | --- |
| | A FILM BY GILLIAN LEAHY. Through the story of one woman's year in a room with a view, the film catches its audience up in the collective memories of all those who have loved and lost... |
| | OUR PARK was meant to be a nice quiet film about the filmmaker's local park, an essay on the notion of the wild and the tame in the inner city suburb of Leichhardt - a portrait of her neighbours, the dog club, Tiny the horse, the teenagers who created the labyrinth in the overgrown weedy patch... |
| | One woman's life, with and without men, but always with dogs. Acclaimed and award-winning filmmaker Gillian Leahy turns her mind to the relationship between herself and her dog in this searching, funny, touching and thought-provoking documentary... |