OUR PARK
Year: 1998
Classification: Exempt - Ronin Recommends: G
Runtime: 52 min
Produced In: Australia
Directed By: Gillian Leahy
Produced By: Sophie Jackson
Language: English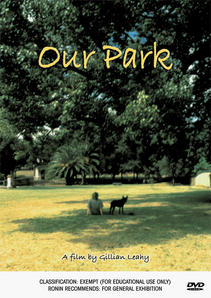 price includes GST and postage

OUR PARK was meant to be a nice quiet film about the filmmaker's local park, an essay on the notion of the wild and the tame in the inner city suburb of Leichhardt - a portrait of her neighbours, the dog club, Tiny the horse, the teenagers who created the labyrinth in the overgrown weedy patch. And nice and quiet it was - until the neighbourhood became embroiled in a fight between two of the filmmaker's neighbours, Kerry and Kostas, over the use of a community shed. Suddenly the film took an unexpected turn and became a film about the politics of a neighbourhood and the difficulties of grass roots democracy - how people interact, how they solve disputes - or how they don't. It's also about how a community relates to their own little patch of nature. It happens to be a park in Sydney, Australia, but it could be any park, any people or almost any place.
"OUR PARK is about much more than an escalating feud. It's about how hard, but yet how important it is, to maintain a sense of community, and an intimate relationship with nature, in a large city." - Paul Byrnes, Sydney Film Festival.
A film by Gillian Leahy.
"**** [4 stars] A BRILLIANT LITTLE WORK." - Paul LePetit, The Sunday Telegraph.