BAXTER AND ME
Year: 2016
Classification: PG
Runtime: 83 min
Produced In: Australia
Directed By: Gillian Leahy
Produced By: Sue Brooks
Language: English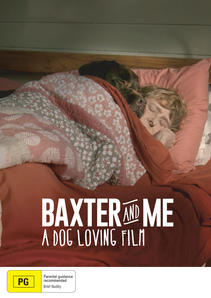 price includes GST and postage

One woman's life, with and without men, but always with dogs.
Acclaimed and award-winning filmmaker Gillian Leahy turns her mind to the relationship between herself and her dog in this searching, funny, touching and thought-provoking documentary.
Gill questions her own relationship with her big brown chocolate Labrador, Baxter - and relationships in general between dogs and humans.
It all begins when Gill wakes up one morning and asks herself, "What am I doing living with this big brown beast?" And it takes off from there.
In Gill's idiosyncratic, bruisingly honest and dogged way, the film takes a walk down Gill's life with dogs, her relationships with people and most significantly her current relationship with the charming and wilful Baxter.
Do dogs love us? Do we love dogs? Are we in control or are they? Who is training who? Why do we love dogs? Do we treat dogs as they deserve? Do we treat them as we should? How should we treat them? Are they our slaves or are we theirs? What do they give us and what do we give them?
Enhanced by Elizabeth Drake's music, Steven Macdonald's insightful cinematography, Denise Haslem's adroit editing and Gill's own eccentric, astute, wry and opinionated voice-over musings, the film takes us to some familiar haunts and some unexpected destinations on the journey of casting an eye on what goes on between dogs and humans.
---
Director's Statement
Thirty-eight per cent of Australian households have one or more dogs. In the United States the figure is forty percent. Dogs have been associated with humans for up to 30,000 years ago. Their bond with man is legendary –'man's best friend'. In recent times dogs have moved more and more out of the doghouse and into the family home and have come to regarded as 'part of the family' by most dog owners.
I have made documentaries in a number of different styles but have always been interested in the issue of how films can bring about attitudinal change, and what makes films connect with audiences. In My Life Without Steve, I wanted to examine romantic love and obsession through a personal lens. The film worked its message through images, poetic narration and the use of popular love songs sung by the female character in the film. With Our Park I set out to make an essay film on the tame and the wild in my local park. Baxter and Me forms the third part of a trilogy of personal films. This third film combines my interest in what makes for love and intimacy and in the borders between the wild and the tame.
Baxter and Me allows the characters and relationship to unfold over time. It is specifically placed in Sydney's inner west, in this time now, over one year in the relationship. It emphasises the detailed and the particular, day-to-day life in Gill and Baxter's relationship and their ordinary rituals. It thus provides a snapshot of this time here and now, but in such a way that we can look at our lives anew. My past is threaded through this film, from my difficult childhood, my days as an activist, to my beginnings in the film industry. My relationships and my issues with intimacy are also uncovered and I tell the stories of my previous dogs. My life is one that has always been mediated and mitigated by dogs.
With Baxter and Me, I venture more fully into the territory of the poetic. This style allows that documentaries can be pleasurable to the senses to watch but are still documentaries with a relationship to the real. These films are more about texture, sensation and emotion and less about argument and 'facts'. I can borrow from the techniques of drama while still covering a 'real' relationship and 'real' subjects.
I wanted to see how much I could persuade audiences to sympathy and support for dogs without lecturing them or drowning them in facts. And I wanted some humour too. To that end I use shot composition, set decoration, colour and lighting, teamed with especially composed music and personal narration. I'm hoping this style shifts the documentary into a more emotional and sensual register and away from the more didactic or exegetical.
Baxter and Me raises questions about how we relate to the 'wild' in dogs, how we relate to other animals in the world at large. By examining the personal microcosm I believe we can uncover major issues facing mankind and the world. I hope people leaving the cinema having seen this film will have a lot to feel, think and talk about.
---
WINNER! Excellence Awards for Best Original Music Score (Elizabeth Drake) and Best Song (Gillian Leahy and Sue Brooks), Documentaries without Borders, 2018
WINNER! Best Documentary Script, Australian Writers Guild, 2016
FINALIST: Documentary Australia Award for Australian Documentary, Sydney Film Festival, 2016
Official Selection, American Documentary Film Festival, 2018
---
"Leahy has produced a lovely and quite personal meditation on feminism, aging and love - particularly the variety that binds human and canine in a poignant cross-species embrace."
- Michael Renov, The Subject of Documentary (2004)
"This beautifully crafted film traces director-writer Gill Leahy's getting of wisdom: men may come and go but her passionate feminism and fierce love for dogs endure and bring happiness. I was disarmed, charmed and very moved."
- Dr Jane Mills, Series Editor, Australian Screen Classics,
Film Advisory Panel, Sydney Film Festival
"Leahy's films, mixing documentary, fiction and the essay form, have always explored many levels at once: personal, political, even mythical. Baxter and Me, with its treatment of human and animal, brings her work together in a moving, humorous, deeply insightful way."
- Adjunct Associate Professor Adrian Martin, Film & Screen,
Monash University
---
Director, writer Gillian Leahy
Producer Sue Brooks
Editor Denise Haslem
Cinematographer Steven Macdonald
Composer Elizabeth Drake
Line Producer Frank Haines
Script Editor Alison Tilson
Starring Billy Baxter Budd
---
VIEW TRAILER HERE: vimeo.com/295923766