MY LIFE WITHOUT STEVE
Year: 1987
Classification: PG
Runtime: 53 min
Produced In: Australia
Directed By: Gillian Leahy
Produced By: Gillian Leahy
Language: English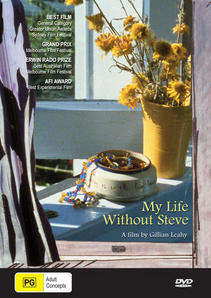 price includes GST and postage

A FILM BY GILLIAN LEAHY.
Through the story of one woman's year in a room with a view, the film catches its audience up in the collective memories of all those who have loved and lost.
After a lengthy romance, Steve (who is only seen in photographs and is played by Mark McManus) has left Liz (Jenny Vuletic). During the months that follow, the wounded and angry Liz obsesses on the end of the relationship, attempting to understand why and how it happened and so avoid the recurrence of such emotional pain. Through a study of Liz's obsession and loneliness, the film mixes the particular with the universal to cover the whole gamut of feelings and theories about lost love. Ranging from the popular to the more erudite, snatches of songs, quotes and diary jottings are all stitched together with stories from Liz's past and descriptions in minutiae of her current existence. The B side of love is richly played out through the words of an A team of interpreters from Split Enz, Laurie Anderson and Bob Dylan to Freud, Marge Piercy, Collete and Roland Barthes.
"A JOURNEY INTO THE DAZZLING DARK NIGHT OF THE ROMANTIC SOUL ... intensely lyrical ... No doubt about it, MY LIFE WITHOUT STEVE is the Australian movie of the year." - Peter Kemp, Filmnews.
"A SMALL MASTERPIECE ... the most moving and perfectly structured Australian short film seen in a long time." - Anna-Maria Dell'Oso, National Times.
"AN EXCEPTIONAL FILM ... a tantalising picture of a collapsed relationship ... impeccable visual style." - John Baxter, The Australian.
"A PASSIONATE, BITTER MEDITATION ON DESIRE AND LOSS ... [it] counterposes domestic still-lives with a monologue about the end of an affair ... THE FILM IS STARTLING AND DISTURBING, A FILM OF FRIGHTENING HONESTY." - Jane Root, Edinburgh Film Festival programme.
WINNER! AFI Award for Best Experimental Film
WINNER! Best Film at the Melbourne Film Festival