LONG SHADOWS: Stories From A Jewish Home
Year: 2002
Classification: Exempt - Ronin Recommends: PG
Runtime: 56 min
Produced In: Australia
Directed By: Kate Hampel
Produced By: Melanie Coombs
Language: English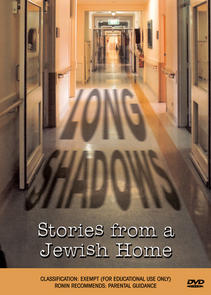 price includes GST and postage

LONG SHADOWS: STORIES FROM A JEWISH HOME examines the implications of caring for ageing survivors of the Holocaust.
The largest population of Holocaust survivors, per capita, outside Israel lives in Melbourne, Australia. These survivors are facing death and isolation for the second time, as they make the traumatic transition to an aged care facility. Dementia, memory loss and physical immobility contribute to a splintering of identity. Removed from their homes, their familiar routines, their families and the outside community, past horrors come flooding back.
Exploring three levels of care from the most independent to the most dependent at Melbourne's biggest Jewish aged care facility, LONG SHADOWS examines the impact of institutionalisation for three survivors and their spouses.
Harold guides us flamboyantly through this teeming "tower of Babel" that houses up to 600 residents, and through his personal tale of tragedy and love. Evelyne, a child survivor now aged 60, must face institutionalisation prematurely when an accident renders her dependent. And life inside the Dementia unit for Alzheimer's sufferer Dora shows how massive trauma affects sufferers of dementia and the people who love and care for them. All three stories are peppered with humour, delivered with honesty and underscore the importance of love for survival.
Related files