CROSSING THE LINE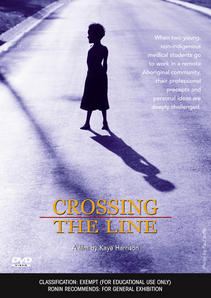 price includes GST and postage

CROSSING THE LINE follows the journeys of two young medical students, Amy and Paul, who leave their safe middle class homes and university behind to be thrust into the harsh reality of everyday life on Mornington Island. Like most Australians, they have never been exposed to life in a remote Indigenous community.
Throughout their 8-week placement in this remote Indigenous community, Amy and Paul move beyond their professional roles to make personal connections with some of the locals. There is an ongoing tension between their personal experience with the community and the professional distance they are told they need to maintain in order to practice professionally. Extremely moving yet unsentimental, this film offers a rare insight into the practical realities of providing Western medical services to Indigenous communities and illustrates ways in which engagement can contribute to an improvement in the crisis in Aboriginal health today.
"IT MAKE FOR REMARKABLE, RIVETING VIEWING AND GIVES A RARE AND UNSENTIMENTAL INSIGHT INTO ONE OF AUSTRALIA'S REMOTE INDIGENOUS COMMUNITIES. DON'T MISS IT." - Sacha Molitorisz, TV Previews, The Sydney Morning Herald.
WINNER! BEST DOCUMENTARY - Social and Political Issues - 2005 ATOM Awards (Australian Teachers of Media).
---
CROSSING THE LINE is a significant film in my career as a producer. The director and cinematographer, Kaye Harrison, approached me with the idea of following two non-indigenous medical students on a work placement to the remote community of Mornington island, where they would meet Aboriginal people for the first time and experience some of the complexities of Indigenous health issues.
Kaye impressed me with her understanding of the protocols of approaching the community for permission to film in a serious and sensitive way. She undertook research trips to get the support of the community, the medical organisations and the University of Tasmania. She also found two young medical students prepared to participate in the film.
It's rewarding to know that the film continues to be used widely amongst Indigenous and mainstream organisations to explore the complexities of grappling with Aboriginal and Torres Strait Islander health issues and Aboriginal people's responses to outsiders. The film elicits a wide range of responses about the thorny issues of 'crossing the line' in a medical professional sense. It also portrays the unpredictable responses when mainstream health professionals 'cross the line' and enter Aboriginal communities for the first time. Bridging the Gap in Aboriginal and Torres Strait Islander life expectancy remains a key issue across Australia. CROSSING THE LINE continues to play a role in raising awareness amongst engaged students and health professionals.
Rod Freedman, Producer, May 2013
---
My motivation for making the documentary CROSSING THE LINE was a desire to make the issues surrounding Indigenous health accessible to a broad mainstream audience. Since its broadcast on the ABC some 8 years ago it is apparent that the documentary has also been very useful as an educational resource. It's very gratifying to know that the film encourages discussion and debate about such complex issues, makes me feel like I've done my job! In an ideal world where there is no Indigenous disadvantage with respect to access to health care, life expectancy, my documentary would no longer be regarded as relevant. Until then I am hopeful the documentary continues to make a valuable educational contribution.
Kaye Harrison, Director, May 2013
---
Related files