FIRST FAGIN, THE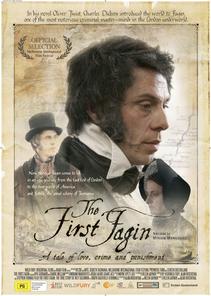 price includes GST and postage

From New York to Hobart, and from the darkest jails and prison ships of England to the penal colony of Port Arthur, THE FIRST FAGIN brings to life the passionate love and dramatic adventures of Ikey Solomon, family man, fence, and Charles Dickens' inspiration for the character of Fagin in Oliver Twist.
"A ripping yarn that commands no small measure of amazement even without the link with Dickens. ..." - Richard Kuipers, Variety
""An entertaining docudrama ... compelling ...Ryk Goddard and Carrie McLean are impressive ... The filmmakers make effective use of locations such as Port Arthur and Richmond Jail" - sbs.com.au/films
"The filmmakers have done a wonderful job of turning Ikey into a real character ... The performances are all excellent ... Guy Gross has scored the work with a great sense of restraint and with evocative colours" - Andrew L. Urban, Urban Cinefile.
"An engaging story, which seamlessly stitches the facts with the supposition." - Rebecca Butterworth, FilmInk
---
When Charles Dickens created the character of Fagin in his novel, Oliver Twist, he gave birth to one of the most infamous rogues in English literature. Few people know that Dickens' portrait of Fagin drew inspiration from the life of the Jewish receiver and fencer of stolen goods, Ikey Solomon. Much has been written about Ikey's exploits: his amazing and daring prison escapes have captured people's imaginations through the generations.
THE FIRST FAGIN recreates Ikey's journey from London's dens of vice, Newgate jail, and the notorious prison "hulks" on the Thames to a daring escape to the new world of America. Ikey then tempted fate by sailing to Tasmania in search of his wife who had been transported as a convict. In Tasmania, Ikey began a long legal battle to defy the authorities of one of Australia's most severe convict settlements.
As a rare examination of the criminal sub-culture from which Dickens drew inspiration, and of the convict system in early colonial Australia, THE FIRST FAGIN seamlessly blends reconstructed dramatic sequences with historical documentary. It's a colourful and lively evocation of a turbulent period and a riveting account of the dramatic swings in Ikey Solomon's fate.
The film is narrated by Miriam Margolyes, who toured Australia last year in her own one-woman Dickens' show.
The score for THE FIRST FAGIN was composed by Guy Gross, one of Australia's most prolific and honoured film and television composers. He is recipient of the APRA/AGSC International Achievement Award, and in 2012 was elected president of the Australian Guild of Screen Composers. He received a British Academy Award (BAFTA) nomination for his score for THE ADVENTURES OF PRISCILLA, QUEEN OF THE DESERT, and his work includes the US Sci-Fi series FARSCAPE.
With RYK GODDARD as Ikey Solomon and CARRIE McLEAN as Ann Solomon.
Interviews with Dr Alison Alexander, Dr Trudy Cowley, Dr Pete Hay, Professor Janet McCalman.
Based on the book by Judith Sackville-O'Donnell, The First Fagin: the True Story of Ikey Solomon.
Directed by HELEN GAYNOR, ALAN ROSENTHAL
Written by ALAN ROSENTHAL, HELEN GAYNOR
Produced by VERONICA FURY, ALAN ROSENTHAL, STEPHEN TOMAS
Co-Producer HELEN GAYNOR
Photography JAMES GRANT
Editor WAYNE HYETT
Music composed by GUY GROSS
THE FIRST FAGIN was produced with the financial assistance of ZDF and Arte, Screen Tasmania, the Melbourne International Film Festival Premiere Fund and Screen Queensland.
---
Follow this link to view THE FIRST FAGIN trailer: vimeo.com/663864709
---
Review in Urban Cinefile:
It's quite an epic story, the life of Ikey Solomon, if by epic we mean eventful, colourful, ever-twisting, often tinged with danger and suffering. The filmmakers have done a wonderful job of turning Ikey into a real character by having him tell us his own story through the performance of Ryk Goddard. This is in addition to having narrator, Miriam Margolyes, who stitches the story together.
Part historical documentary, part narrative film, The First Fagin offers information as well as entertainment as it time-travels into the 19th century. We get a glimpse of London and of Hobart and Port Arthur of the time, and neither is very appealing. The brutal system of criminal punishment forms an ever present backdrop to the story of Ikey and his family.
The performances are all excellent, with Goddard likeable as the well meaning and loving husband. He distances himself from mere thieves - he had class and he played fair as a fence for stolen goods. Carrie McLean is also great as the rather stoic Anne, a wife who endures extraordinary heartbreak and hardship - mostly as revenge by the authorities on Ikey.
Guy Gross has scored the work with a great sense of restraint and with evocative colours, and the production design is commendably naturalistic. Feeding our curiosity with its potential as the source material for the Fagin character in Oliver Twist, the film has a deeper resonance with its Australian connection. As for our sympathies, unlike the Fagin of Dickens' world, they tend to favour Ikey.
- Andrew L. Urban
www.urbancinefile.com.au/home/view.asp?a=19160&s=reviews
---
I went to see The First Fagin at Bathurst's Metro Cinema. It is wonderful to see an Australian docu-feature of such quality (and length) being made for our cinema. The actors are very convincing in their roles, especially Ikey and Ann Solomon. Margoyle's narration was delivered with perfection. The story was told in a way both interesting and entertaining - with a nice sense of drama throughout. It is good to see such films being made by Australians about colonial Australian history, and to see that Ronin is involved. My only complaint is that this film was not available when I taught colonial history. The First Fagin offers students a ticket to the world of Dickens' London and convict Australia with the guarantee of a journey that will fire imagination and a thirst to know more.
- Dr Robin McLachlan, historian, educator, filmmaker
---
Related files
Images