BREATHING LIFE INTO BOODJA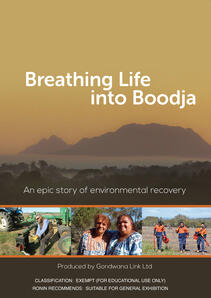 price includes GST and postage

As we face the colossal challenge of protecting and restoring the environment, Breathing Life into Boodja* provides hope and inspiration.
The film is a galvanising portrayal of large-scale environmental achievements being made by community groups, Aboriginal communities and rangers, conservation landholders, farmers and scientists. Together, they are restoring and healing land around the Porongurup and Stirling Ranges in south-western Australia.
In this region some of Australia's most biologically diverse ecosystems were destroyed when land clearing for broad-acre agriculture was dramatically increased after World War II. Now restoration is underway across large tracts of open farmland and wildlife is returning.
At the same time, dispossessed Aboriginal communities are regaining their voice and their role as managers of their country. Their story is one of self-empowerment and cultural healing achieved as part of environmental recovery – healthy country and healthy people.
This collaborative work is part of an ambitious 1,000-kilometre effort known as Gondwana Link, which is establishing an arc of continuous wildlife habitat from the tall, wet forests of the Margaret River area through to the semi-arid Great Western Woodlands around Kalgoorlie.
In recognition of Gondwana Link's global significance, it has been named as one of the 'Founding 50' projects for the United Nations Decade of Ecosystem Restoration (2021- 2030).
The film is a sequel to the history of environmental devastation and awakening consciousness told in an earlier documentary, A Million Acres a Year (2002), which is also available from Ronin Films - see www.roninfilms.com.au/feature/17120/million-acres-year.html
*"Boodja" means "Country" in Noongar language.
VIEW TRAILER HERE: vimeo.com/584722877
---
Produced by Gondwana Link Ltd
Executive Producers – Keith Bradby, Amanda Keesing, Margaret Robertson
Concept – Frank Rijavec, Keith Bradby
Cinematography, editing and interviews – Frank Rijavec
Post-production editorial input – Keith Bradby, Margaret Robertson and Amanda Keesing
Production Manager – Margaret Robertson
Narrator – Keith Bradby OAM
---
FEEDBACK
Informal reviews for Breathing Life into Boodja received from audience members, largely via email:
'A seamless treasure' - Ian, Kojonup
'Truly a joy to watch - I wiped tears from my eyes many times' - Jesse, Balingup
'Just fantastic in so many ways ... beautifully produced' - Pierre, Fremantle
'It was wonderful. So moving to see the life being breathed back into the landscape - it brought tears to my eyes, really!' - Suzanne, Margaret River
'I absolutely loved the film and came away inspired and hopeful about future progress to be made by ordinary people doing extraordinary things' - LesleyAnn, Albany
'... beautiful! It's visually stunning, really lovely story-telling and has such a feel-good positive tone.' - Louise, Melbourne
'I wiped tears from my eyes at the end, I felt very choked up. So many wonderful, inspiring people, it was an honour to see them. Terrific.' - Michelle, Porongurup
'... the quality of the production is superb ... I've known about Gondwana Link for quite a number of years, but seeing it in motion like this really made the vision resonate that much more powerfully for me' - Levi, USA
Related files