EXILE AND THE KINGDOM
Year: 1993
Classification: Exempt - Ronin Recommends: G
Runtime: 110 min
Produced In: Australia
Directed By: Frank Rijavec
Produced By: Frank Rijavec
Language: English, Yindjibarndi, Ngarluma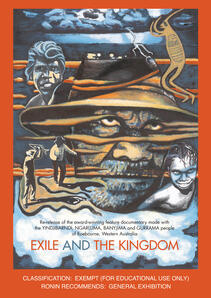 price includes GST and postage

The experiences of a community of Aboriginal people from pre-colonial times to the 1990s. The re-release of the award-winning feature documentary from 1993, made with the YINDJIBARNDI, NGARLUMA, BANYJIMA and GURRAMA people of Roebourne, Western Australia.
In the beginning, when the world was soft, Creation beings lifted the earth out of the sea. Then the world became hard... Colonisation, slavery, mining booms...
This is the story of the Aboriginal people of Roebourne - their Law, their tribal voice, their survival.
"GOES PRETTY CLOSE TO BEING A MASTERPIECE"
- Phillip Adams, The Weekend Australian, 3 July 1993
This film makes the connection between Aboriginal people in chains in the 19th century and Aboriginal people in prisons today, so providing a deeper understanding of how the violence and denials of the past inform the present. Ultimately, it gives conviction that with their extraordinary resilience, the Indigenous peoples of Australia will survive and flourish.
The documentary argues that the relentless removal of the Yindjibarndi/Ngarluma people into coastal ghettos has led to the community's current problems. The film moves us through the period of British colonisation— unearthing appalling facts about slavery and the violent rule of pearling and pastoral overlords—to the abuses of the 1960s mining boom and problems of alcohol. Yet it never allows the viewer to forget the significance and influence of spiritual homelands, the bedrock upon which Yindjibarndi/Ngarluma tribal law is based. Above all, EXILE AND THE KINGDOM is a beautifully logical and persuasive argument for land rights.
VIEW TRAILER HERE: vimeo.com/477899079
NOTE: see below for a link to download (free) the outstanding 24 page booklet, KNOW THE SONG, KNOW THE COUNTRY, the Ngardangarli story of Culture and History in Ngarluma and Yinjibarndi Country.
Director Frank Rijavec
Producers Frank Rijavec, Noelene Harrison
Narrator Roger Solomon (Yirra Birndirri)
Writers Frank Rijavec, Roger Solomon
Produced with the assistance of the Australian Film Commission, ScreenWest, ATSIC, AAPA (WA) and Ngurin Aboriginal Corporation.
DVD version produced with the assistance of Juluwarlu Aboriginal Corporation.
© 1993, Frank Rijavec, Noelene Harrison
---
AWARDS
MAJOR MEDIA PEACE AWARD, United Nations Association of Australia, 1993.
BEST DOCUMENTARY & BEST ACHIEVEMENT IN SOUND, Australian Film Institute Awards, 1993.
BEST DOCUMENTARY, Louis St John Johnson Media Awards, 1993.
Australian Human Rights Award for BEST DOCUMENTARY,1994.
---
INFORMATION ABOUT THE COMMUNITIES TODAY
www.juluwarlu.com.au/
www.ganalili.com.au/
ngaardamedia.com.au/photography-highlights/
www.wangkamaya.org.au/pilbara-languages/yindjibarndi-overview
www.wangkamaya.org.au/pilbara-languages/ngarluma-overview
www.wangkamaya.org.au/pilbara-languages/banyjima-overview
www.wangkamaya.org.au/pilbara-languages/kurrama-overview
---
Related files