BURNSIDE CONVERSATIONS, THE
Year: 2019
Classification: Exempt - Ronin Recommends: PG
Runtime: 115 min
Produced In: Australia
Directed By: Judy Rymer
Produced By: Lois Harris, Judy Rymer
Language: English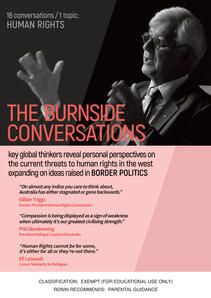 price includes GST and postage
The Burnside Conversations is a series of 16 short films on a single DVD, in which Julian Burnside QC converses with key Australian and global thinkers about seeking asylum and threats to human rights.
The conversations expand on the feature length documentary, Border Politics (also available from Ronin Films).
Julian Burnside was one of Australia's leading commercial barristers, mainly acting for "the big end of town". All that changed in 2001 when he acted pro bono in the Tampa Case and discovered Australia was doing very disturbing things to refugees.
Since then, Burnside has become one of the most outspoken defenders of the rights of refugees and asylum seekers, and a fierce critic of Australian government policy. He believes that successive Australian governments have failed to meet their international obligations, breaching the Declaration of Human Rights, the International Rights of the Child, and the Refugee Convention.
The conversations in this series feature the following Australian and International figures:
Gillian Triggs (Australia) - former President, Human Rights Commission
David Marr (Australia) - journalist
Phil Glendenning IAustralia) - President, Refugee Council of Australia and Director, Edmund Rice Centre
Efi Latsoudi (Greece) - Lesvos Solidarity for Refugees
Kenneth Roth (USA) - Executive Director, Human Rights Watch
Francesco Balderrama (USA) - Professor and historian, California State University
Daniel Barney (France) - Spokesperson, Medecins Sans Frontieres
Paul Stevenson (Australia) - psychologist
Daniel Webb (Australia) - Director, Human Rights Law Centre
Tony Fisher (England) - Law Society, England and Wales
Wolfgang Ischinger (Germany) - Chair, Munich Security Council
David O'Neill (Scotland) - President, Convention of Scottish Local Authorities
Emilie Rouvroy (Greece) - Head of Mission Greece, Medecins Sans Frontieres
"These 16 short films are all about those most precious aspects of any discussion: the exchange of ideas and experiences with minimal constraint or mediation and with optimum passion. These little gems forcefully examine fundamental aspects of human rights, and represent an incredibly valuable resource that extend and amplify and clarify everything that Border Politics began; they give space for extended thinking, in a way that our mainstream media rarely has time to permit."
- Dr Andrew Pike, OAM, film historian and film distributor.
VIEW TRAILER HERE: vimeo.com/349154790
Director Judy Rymer
Producers Judy Rymer, Lois Harris
Cinematographers Marden Dean, Gerry Vasbenter
Sound recordists Leo Sullivan, Austin Plocher
Editors Paul Hamilton, Michael Horton
Composer Jan Preston
Design Michelle French
Associate Producer Robyn Smith
Copyright Rymer Childs Pty Ltd