TROUBLESOME PRIEST, THE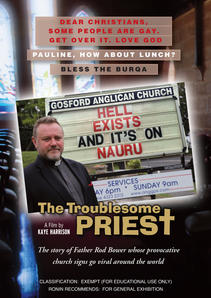 price includes GST and postage
Director's Cut - not abridged for TV.
Father Rod Bower is an Anglican priest who believes that Australia's treatment of asylum seekers has put the soul of the nation in peril; that as we diminish the humanity of others, we are diminishing our own humanity.
Working as a team with his wife Kerry, they use the sign in front of their church to challenge and provoke. They also share their messages via the Anglican Parish of Gosford Facebook page. Public interest extends far beyond Father Bower's parish on the NSW Central Coast: he has over 54,000 Facebook followers and the page receives up to 14 million engagements each week from people of different faiths and people of no faith. He consistently attracts both national and international media coverage.
Filmed over 2 years, The Troublesome Priest delves into the makings of this complex yet simple man. An adopted child who was relentlessly bullied due to his small stature, Father Rod remembers the rage he felt, not for the physical pain or humiliation, but for the injustice of the abuse. The rage is still there, just below the surface, when he witnesses attacks on the vulnerable such as the denial of human rights for asylum seekers or racist slurs towards the Muslim community.
For Father Rod, the opposite of love is fear and it is fear of "the other" that leads human beings to harm one another. His quest for a more evolved humanity has never been so important. The Troublesome Priest is the inspiring story of a flawed yet courageous man who seeks to heal his own brokenness so he might heal the brokenness of our collective humanity.
The Troublesome Priest is a film by Kaye Harrison, director of other outstanding films in the Ronin collection - CROSSING THE LINE and THE LONG GOODBYE.
VIEW THE TRAILER: vimeo.com/284645604
NOTE: In early 2022, after 22 years at the Anglican Church in Gosford, Father Rod Bower and his wife Kerry left the Gosford Parish for a new position in Port Macquarie, in the Anglican Diocese of Newcastle.
---
Some of Father Rod's best-known messages include:
"THE INTENTIONAL DEHUMANISATION OF REFUGEES DAMAGES US"
"DEAR CHRISTIANS, SOME PEOPLE ARE GAY. GET OVER IT. LOVE GOD"
"A COMPASSIONATE NATION STARTS WITH ME"
"MR DUTTON PLEASE HAVE A HEART"
"PAULINE, HOW ABOUT LUNCH?"
"BLESS THE BURQA"
---
Director, cinematographer, editor, sound recordist: Kaye Harrison
Producer: Greer Simpkin
Executive Producer: David Jowsey
Music: Dorian Mode
Produced by Bunya Treehouse Productions.
Developed and financed with the assistance of Screen Australia and Screen NSW.
Related files