SILENCES, THE
Year: 2015
Classification: M
Runtime: 73 min
Produced In: Australia
Directed By: Margot Nash
Produced By: Margot Nash
Language: English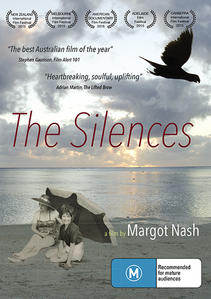 price includes GST and postage

WINNER! AWGIE Award for Best Documentary (Public Broadcast or Exhibition) from the Australian Writers Guild, October 2016
A film about family secrets and the ties of love, loss and kinship between a mother and daughter.
The Silences is a personal essay documentary about the tangled bonds, secret histories and unspoken traumas of family life that stretches from New Zealand to the Australian suburbs. It is an exploration of early childhood and the "silences" of the past that resonate in the present.
It draws upon a wealth of photographs, letters, oral histories, documentary footage and clips from the filmmaker's previous work. It unfolds a mother's story of lost opportunities, lost love and grief; a father's story of work, mental illness and war; and a daughter's story of trying to piece together a more complex picture of the confusing ties of love, loss and kinship between a mother and daughter.
---
THE SILENCES screened at the Queensland Film Festival, July 2016, and has been listed by two important critics among their top five film choices of the Festival. Adrian Martin made the following comment:
"Margot Nash (Vacant Possession, 1995) is an unsung treasure in Australian cinema. The Silences could be tagged a documentary about a troubled family history, but it is more like a personal essay. Its elements are very few and simple, elegantly and eloquently arranged. The Silences is heartbreaking, soulful – and finally, in a measured, richly earned way, uplifting. Don't miss it". (qldff.com/adrian-martins-top-5-qff-2016/)
And Alexandra Heller-Nicholas wrote: "... there can be little doubt that in film culture terms, Margot Nash is a national treasure. With a number of directorial credits under her belt—short films, documentaries and feature films—these all inform Nash's documentary The Silences, as the director traces her unapologetically frank, sincere and deeply personal relationship with her family, her mother in particular. Recalling themes and fascinations that run through her earlier work like Vacant Possession (1995), Nash explores the influence of her early life upon who she became as an adult—both as an artist and as a human being—with profoundly moving results". (qldff.com/alexandra-heller-nicholass-top-5-qff-2016/)
---
"The best Australian film of the year." - Stephen Gaunson, Film Alert 101.
"Heartbreaking, soulful, uplifting." - Adrian Martin, The Lifted Brow.
"Judicious, thoughtful, resonant." - Phillipa Hawker, The Age & Sydney Morning Herald.
---
AWARDS
AWGIE Award, Best Documentary (Public Broadcast or Exhibition) from the Australian Writers Guild, October 2016
Finalist Australian Directors Guild Awards – Feature Documentary
 2016
Best Feature – 2nd Reel Sydney Festival of World Cinema
 2016
Trophy Award - WAYMI (World Association of Young People who have a Mentally Ill Parent) 2016
Finalist ATOM (Australian Teachers of Media) Awards - Documentary Biography 2015
FESTIVALS
Queensland Film Festival - Official Selection 2016

American Documentary Film Festival, Palm Springs, USA - Official Selection
 2016
Ozdox (The Australian Documentary Forum) for International Women's Day 2016
New Zealand International Film Festival (Auckland, Wellington, Christchurch, Dunedin) - Official Selection
 2015
Melbourne International Film Festival - Official Selection (Australian Showcase) 2015
Adelaide Film Festival - Official Selection (Australian Showcase) 2015
Canberra International Film Festival - Official Selection 2015
---
WATCH THE TRAILER: vimeo.com/108751599
---
Related files