HANGING AUSTRALIA
Year: 2015
Classification: Exempt - Ronin Recommends: G
Runtime: 49 min
Produced In: Australia
Directed By: Chris Bamford, Serge Ou
Produced By: Bettina Dalton
Language: English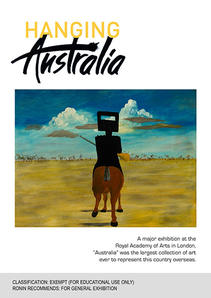 price includes GST and postage

The selection of more than 200 artworks for the Australia exhibition at London's Royal Academy of Arts was not without controversy. Drawn from collections across Australia, it included some of this country's greatest masterpieces and was the largest historical survey of Australian art ever to be displayed in Britain.
Beginning in the 1800s, the exhibition showed more than 200 years of Australian art on the theme of land and landscape. It also reflected the importance of country to Aboriginal and Torres Strait Islander people, with Australian Indigenous art making up a quarter of the selection.
In the film, we hear from artists and curators as the artworks make their journey from the gallery walls in Australia to the Royal Academy in London. And as the exhibition opens we observe those confronting Australia: casual visitors, critics, and members of London's notoriously tough art establishment.
The exhibition was structured around six themes and through these, the film takes us on encounters with some of the best-known names in Australian art: Tom Roberts, Frederick McCubbin, Margaret Preston, Grace Cossington Smith, Arthur Boyd, Russell Drysdale and Sidney Nolan, whose iconic Ned Kelly painting adorned the exhibition posters plastered on the walls of London Underground stations. John Olsen's hugely dramatic (and seriously misunderstood at least by one influential London critic) painting of the sun hung over the heads of visitors to the exhibition.
The film surveys the behind-the-scenes complexities involved in an international blockbuster exhibition, and provides an insight into how such a show offers a world perspective and appreciation of the cultural diversity of Australia as captured in its art.
HANGING AUSTRALIA joins Andrew Pike's film, EMILY IN JAPAN, as a study of the complexities of the world of blockbuster art exhibitions. For information about EMILY IN JAPAN, see: www.roninfilms.com.au/video/825/0/2142.html
---
Directors CHRIS BAMFORD, SERGE OU
Producer BETTINA DALTON
Associate producer HARRIET PIKE
Executive producer MICHAEL TEAR
Writer MICHAEL COVE narrated by GEORGIE GARDNER
Produced by WildBear Entertainment in association with the National Gallery of Australia
Front photo credit: Sidney Nolan, Ned Kelly, 1946
Related files