ALLIES
Year: 1983
Classification: PG
Runtime: 95 min
Produced In: USA
Directed By: Marian Wilkinson
Produced By: Sylvie Le Clezio
Language: English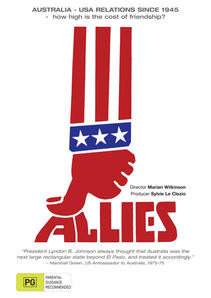 price includes GST and postage

ALLIES is a landmark documentary from 1983, made at the time of Bob Hawke's unequivocal embrace of the American alliance. The film explores Australia-US relations during the Cold War: the setting up of ASIO to appease American agencies worried about Communist influence; the Petrov Affair and disunity in the Labor Party; and the determination of Sir Robert Menzies to follow the US into Vietnam. It's the story also of the "covert wars" in South-East Asia, especially Indonesia, and Australia's role in support of US policy and intervention.
ALLIES looks at the time when Australia went "all the way with LBJ", and the days when secret US bases were established. It then looks at the heady days of the Whitlam election and the promise to restore "integrity" and "dignity" to Australia's foreign policy, and explores how Nixon, Kissinger and the CIA really reacted to Whitlam's government. Interviews with former CIA officials Frank Snepp, Victor Marchetti and Dr Ray Cline show how deeply disturbed the US intelligence agencies were by the new Labor government.
Convicted spy Christopher Boyce, former CIA director William Colby, Prime Minister John Gorton, Clyde Cameron, David Combe, Alan Renouf and US ambassadors to Australia, Marshall Green and Ed Clark, also have much to say.
The film stands today as a document of rare authenticity. Made without a narrator, and with discreet use of archival images, the film is told entirely by people who participated at first-hand in the events and by contemporary academic observers (among them Des Ball). All credit to Wilkinson this early in her distinguished career as a journalist and political commentator for not only securing such an extraordinary range of interviewees, and not only coaxing them into such frank and revealing reflections, but also for pulling all of these elements together into such a coherent and forceful whole.
"President Lyndon B. Johnson always thought that Australia was the next large rectangular state beyond El Paso, and treated it accordingly" – Marshall Green, US Ambassador to Australia, 1973-75.
Related files