BEDEVIL
Year: 1993
Classification: PG
Runtime: 90 min
Produced In: Australia
Directed By: Tracey Moffatt
Produced By: Anthony Buckley AM, Carol Hughes
Language: English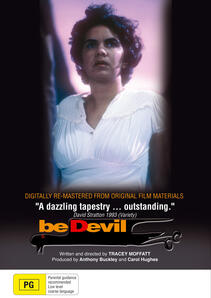 price includes GST and postage

NOW DIGITALLY RE-MASTERED FROM ORIGINAL FILM NEGATIVES! (available as DVD and DCP)
"A DAZZLING TAPESTRY ... distinctly different ... outstanding." - David Stratton, Variety, 1993.
"A TRAILBLAZER ... still one of the most intriguing and unusual works ever to have been made in the country." - David Stratton, Weekend Australian, 2021
From visual artist, filmmaker and photographer, Tracey Moffatt: three tales of the supernatural are combined in one extraordinary feature film, rich in virtuosic design, drama and movement.
In her first feature film, Tracey Moffatt stretches our imaginations with the same intensity and dark humour of her photographic work and her two previous short films that have been lauded around the world.
Both of her short films, Nice Coloured Girls and Night Cries: a Rural Tragedy, (available from Ronin Films) gained Moffatt a reputation for vivid, emotionally charged and highly original work – a reputation equalled by her standing as a visual artist in the medium of still photography.
beDevil is an innovative rendering of three childhood mysteries. Moffatt's breathtaking style - drawing on both her Aboriginal and Irish heritages as well as cinema influences as diverse as Vincente Minnelli and Masaki Kobayashi - makes beDevil one of the most remarkable feature debuts in Australian cinema.
---
beDevil consists of three haunting episodes:
MR CHUCK
The sandy shores and the breezy bungalows of Bribie Island play host to a strange and eerie story. Years back an American GI drove his truck into the quicksand after a party. The pervasive malevolence of the GI's presence is still felt by many who live on the island. However, there is another underlying evil that remains unspoken. Rick experienced it and lived to tell the tale.
CHOO CHOO CHOO CHOO
In the desolate plains of outback Queensland, Ruby (played by Moffatt herself) and her family are haunted by invisible trains which run on a track beside their house. The ghost of a young girl killed by a train drives Ruby and her family away. After many years Ruby returns to experience the ghostly presence yet again.
LOVIN' THE SPIN I'M IN
Imelda's people are Torres Strait Islanders. When her son Bebe and his love, Minnie, leave their community to escape opposition to their marriage, Imelda follows them to a small town in north Queensland. Tragedy strikes - Bebe and Minnie die, but the doomed couple never find peace. The spirits of Minnie and Bebe dance on a condemned warehouse and refuse to leave.
VIEW THE TRAILER HERE: vimeo.com/278073722
Writer, Director Tracey Moffatt
Producers Anthony Buckley, Carol Hughes
Director of Photography Geoff Burton
Music Carl Vine
Production Designer Stephen Curtis
Art Director Martin Brown
Sound editor Frank Lipson
Film editor Wayne Le Clos
With:
MR CHUCK: Diana Davidson and Jack Charles
CHOO CHOO CHOO CHOO: Tracey Moffatt, Banula (David) Marika, Mawuyul Yanthalawuy
LOVIN' THE SPIN I'M IN: Lex Marinos, Debai Baira, Luke Roberts, Pinau Ghee, Patricia Handy
---
"beDevil captures the allusive quality of parochial, local, familial ghost stories, the sort of stories that are passed down through generations, that are repeated and embroidered upon so that eventually they are woven into quotidian discourse and a passing reference can evoke a complex texture of ghostliness." - Lesley Stern, Photofile
OFFICIAL SELECTION! Un Certain Regard, 1993 Cannes Film Festival
---
See "Carl Vine's Score in beDevil", a chapter by Catherine Summerhayes and Roger Hillman in the book REEL TRACKS, Australian Feature Film Music and Cultural identities, edited by Rebecca Coyle (John Libby Publishing, UK, 2005).
---
Related files
Permalink: https://www.roninfilms.com.au/feature/788