ARTISTS OF ALI CURUNG [from the CAAMA Collection]
Year: 2009
Classification: Exempt - Ronin Recommends: G
Runtime: 21 min
Produced In: Australia
Directed By: Robyn Nardoo, Shane Mulcahy
Language: Walpiri language [English subtitles]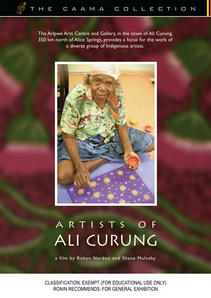 price includes GST and postage

Opened in 2008, the Arlpwe Arts Centre and Gallery, in the town of Ali Curung, 350 km north of Alice Springs, provides a focus for the work of a diverse range of Indigenous artists.
Artists such as Anita Dickson, May Nampijinpa Wilson, Judy Nampijinpa Long, Valerie Nakamarra Nelson and artefact maker Joe Bird, talk about their work as an expression of their link to their Country. Their art also represents a means whereby they can teach younger people in their community about Country, and also take their stories to a wider public.
This delightful film shows the work of these artists, as they talk about their aspirations, intermingled with the dancing and ceremonies that marked the opening of the Arts Centre.
---
Directors - ROBYN NARDOO and SHANE MULCAHY
Photography - ROBYN NARDOO and CURTIS MARRIOTT
Editor - RISHI SHUKLA
Sound recordists - DAVID TRANTER and MELANIE GUINEY
Production Manager - MELANIE GUINEY
Executive producers - ROBYN NARDOO and RAY LILLIS
A CAAMA Production for Imparja TV, in the Nganampa Anwernekenhe series.
---
Follow this link to view a trailer that includes this title and other CAAMA titles: www.youtube.com/watch?v=TnQTe35Fm6o
Permalink: https://www.roninfilms.com.au/feature/4892