BIG BOSS
Year: 2012
Classification: Exempt - Ronin Recommends: G
Runtime: 25 min
Produced In: Australia
Directed By: Paul Sinclair
Produced By: Tom Zubrycki
Language: Yan-nhangu language, English subtitles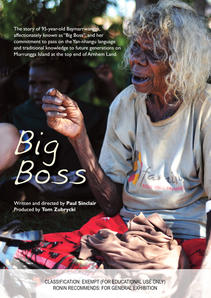 price includes GST and postage

Murrungga Island is at the top end of Arnhem Land in Australia's Northern Territory. This is where we find 95-year-old Baymarrwangga, or as she is affectionately known, "Big Boss", who was honoured as "Senior Australian of the Year, 2012"
BIG BOSS is the story of this 95-year-old Indigenous Elder and her challenge as the remaining leader of the Yan-nhangu people to pass on her traditional knowledge to the next generation.
The film outlines Baymarrwangga's life story, from her time as a young girl on Murrungga, to the time she saw the arrival of missionaries, witnessed the arrival of Japanese and European fishermen, and then experienced war and tumultuous change. The story documents a historical legacy of government neglect, and suppression of bilingual education and how the language and culture of the Yan-nhangu came to be in a precarious position.
One of Baymarrwangga's greatest achievements is the Yan-nhangu Dictionary. The Dictionary's main aim is to preserve Yan-nhangu language and local knowledge from the potentially damaging consequences of rapid global change.
Through the words of the Big Boss herself and members of her community, we learn about the unique lifestyle of the Yan-nhangu people.
Written & directed by Paul Sinclair
Producer - Tom Zubrycki
Co-producer - Jade Rose
Editor - Ray Thomas
Cinematography - Matt Dwyer, Paul Sinclair
Music Composition - David Chapman
Financed by Screen Australia
Copyright Screen Australia, Mirri Mirri Productions & JOTZ Productions
Related files
Permalink: https://www.roninfilms.com.au/feature/8078